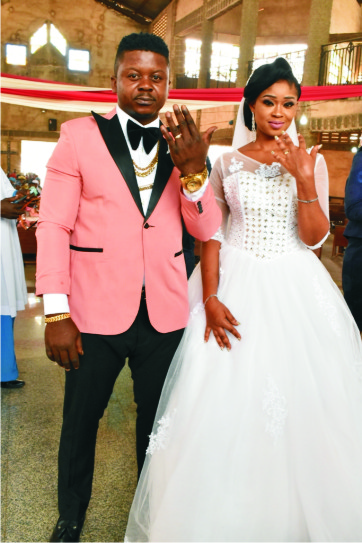 By Onyekachi Eze
It was a Saturday to remember in the heart of Imolites, friends and wellwishers of an Ehime Mbano born business magnet, Mr Ohama Godson Chijioke, as his wedding with heart throb, Miracle Akudo Ibewuihe placed Owerri, the Imo State capital to a stand- still.
Owerri metropolis was shut down for the solemnization of Holy Matrimony of the two love birds, on January 5, 2019, as they tied the nuptial knot, at St Mulumba Catholic Church Owerri.
While the groom hails from Umualumaku/Umueze Ehime Mbano, the bride is from Mbeke in Isiala Mbano LGA.
The celebration commenced on the eve of the 4th January, 2019 with the House warning party of Ohamadike's magnificent edifice along Avu road, where love, joy and funfair rented the air, as well as thanksgiving to God for the gift of life and showers of blessings.
Trumpeta correspondent who observed the glamorous wedding party discovered the avalanche of dignitaries from far and near, especially associates from Jakarta, Indonesia who converged to reckon with the lovely couples.
"Ohamadike" as fondly called is an Importer and Exporter, a Real Estate guru, entrepreneur and philanthropist whose humanitarian services speaks volume.
At the reception arena held at the Links Hotel Owerri, it was a rain of cash as the floor was decorated with different denominations of currency.
The exchange of the marital vows between Ohamadike and spouse has remained the topic of discussion in and across Nigeria   especially among progressive youths, and lovers of good tidings.
In his vote of thanks, Ohamadike acknowledged his guests for identifying with them, while prayed for longevity and more blessings.
He described the wife as the best woman on earth, judging by her sterling qualities, comprising humility, fear of God, truthfulness and homely attributes.
He said, "My joy is complete today. Taking my delectable wife to the altar has added smiles in my life. My beloved wife is the best that has happened to me. May our union continue to grow in love and blossom, Amen".
Similarly, Mrs Ohamadike said, "I am a complete woman today. My joy knows no bound. Among all other men, my husband possesses unique qualities to make a happy home. He is loving, tolerant and a caring hubby and father".
Some notable dignitaries present include; Nze/Lolo Adolphus Ohama, Raphael Udoha, Marriage Sponsor Aladum Okwuchukwu (AKA BOSCO), Jakarta Based friends Viz; Omega, JK, Street, Ticket, David, Mature, Dee Gee, Aji na Mbano, Kelechi Divine (Best Man), and Other dignitaries too numerous to mention.