BY ETHELBERT OKERE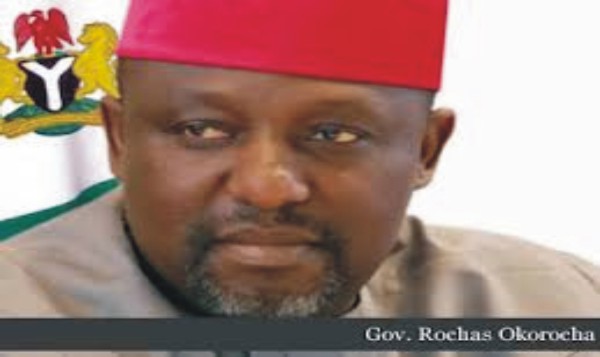 I was in far away Florida, in the U.S.A, precisely at the venue of the recently held World Igbo Congress convention when a colleague called from home to narrate a statement credited to Governor Rochas Okorocha and which he felt would be of interest to me. According to this fellow, His Excellency, Chief Rochas Okorocha, the governor of Imo State, had at an occasion the previous day expressed concern that the people he governs have failed to appreciate his efforts so far, despite, according to the governor, that he has done in one year what all the previous administrations put together had failed to do.
To my response that Imo people were already used to such talks, the fellow told me that that was not the real message he wanted to convey to me. He said the governor had gone ahead to say that he now realises what his predecessors, particularly Governors Achike Udenwa and Ikedi Ohakim, went through in the hands of 'cruel' Imolites.
I have since after my return inquired from quite a good number of people as to whether, indeed, Governor Okorocha spoke in the manner that I was told. The affirmative responses have gladdened my heart because, I see the development as a sign of good things to come to the state. This article is aimed, therefore, at encouraging the governor further; namely to come down from his high horse and embrace the realities of governance, since by so doing, Imo state, our state, will be better.
And I invite every well meaning citizen of the state to join me in this prayer that our governor turns a new leaf and repudiate all tendencies that portray him as seeing Imo people, his own kit and kin, as a people he conquered after the perfidy of May 6, 2011, talking about the so-called supplementary election after which he emerged as governor.
Since then, Governor Okorocha has been acting in a manner that suggests that he sees himself as the only thing that happened to Imo state. Hence, his penchant to run down every body, including people who meant well for the state. Having come with a messiah mind-set, Okorocha ascribed unto himself an omnipotent disposition, throwing over board humility and public decorum. He conjured figures and slammed them on his predecessor, Governor Ikedi Ohakim, as representing monies the latter frittered away on sundry frivolities. Many Imolites would probably remember that I have on several occasions protested over the governor's penchant for saying things he was not sure of; interventions which the media invariably reported with a slant that was not altogether flattering to His Excellency and which, as a corollary, tended to portrayed me as a fellow who is disdainful of gubernatorial authority. But the truth is that I do not normally like being portrayed so.
To be quite candid, I wished all that never happened and I kept on praying that a day would come when our governor would repudiate all those traits that drew to him the numerous darts that come his way. To be sure, there is nothing abnormal in a governor getting criticised, even unconstructively but I felt that Okorocha began to get bombarded too early in his reign. I hold this view for two major reasons. One, a lot of people had, quite erroneously, believed that Okorocha's ascendancy to power was the handiwork of the majority of Imo people themselves who deliberately packaged him for the job. In other words, and to play the devil's advocate, Okorocha, precisely on the basis of that falsehood, was seen to have been "popularly elected". So, the least that could have happened would have been to savour on that popularity for a reasonable length of time. But that was not to be for reasons that are too well known to be repeated here.
The second and perhaps more important reason is that the political group that Okorcha was taking over from was not interested in joining issues with him publicly. Minus the court action which the Peoples Democratic Party (PDP) took to protest the way it was robbed the mandate it got from the people on April 26, 2011, PDP supporters and members were generally indifferent to how the new governor proceeded, regardless of the fact that signs of a draconian dispensation were seen quite early. Without sounding immodest, I was the first to fire a shot but that only came after the governor had pronounced cooked-up figures which he claimed my boss, Governor Ikedi Ohakim, spent on drinks. Up till now, the arithmetic I published to prove the governor wrong has not been faulted.
Each time I compare Governor Okorocha's ambiance in the immediate days, weeks and months after he came to power and what the situation was during the corresponding period after Governor Ohakim's election in 2007, I cannot but conclude, like majority of Imolites, that the current governor may have indeed blown away a golden opportunity not only to be seen as different but to do something different.
Again, to be quite candid, I saw a few steps initially taken by the governor as quite promising and I had no difficulty in acknowledging that he had some bright ideas. But unfortunately, the euphoria of the make-belief of May 6, 2011 swept him off his feet and pronto, he became the "strong man" of Imo, nay Nigerian politics. And we all know what it means to be a strong man in an African context. "Strong Man" in an African sense, has no metaphor. In other words, it has no literally meaning. Once any politician in Africa is referred to as a "strong man", he is bent on being seen in that light. The governor of Imo state prefers to be a strong man. He does not believe in strong institutions as the only way to develop our democracy.
In fact, Governor Okorcha publicly acknowledged that he does not believe in "due process", the very essence of democracy. Which is the reason why today, we hear of an administrative style, in Imo state, that defies all known democratic ethos the world over. I have found myself arguing before people that the things that are said of the style of the current administration can simply not be true; to the extend that I was once reported to some big men who were asked to "watch Ethelbert Okere"; the fear being that I may have been making plans to defect.
Is it any wonder, therefore, that I am quite elated by the current predicament of the Governor. My hope is that the statement credited to him might represent an idea of the shape of things to come; a first step in the repudiation of those proclivities to see himself as a strong man. While I was discussing this topic with a colleague, he opined that it is perhaps better to describe the governor as a fellow who has the craving for populism. That is even worse. My view is that under the present circumstances, it is not possible for Nigeria to have a popular leaders at any of the levels, and that sounding populist is the beginning of the failure of any governor or president in the Nigerian context. The reason I say so is because the problems in the country are so over-whelming that under the circumstances, the utopian approach to governance, of which people like Governor Okorocha are evidently persuaded, would inevitably put such practitioners into an unintended quandary. There might be some hypes here and there but the effects are usually too tentative since the things with which to perform the miracles, in the sense Governor Okorocha wanted Imo people to believe, are simply not there. Today, in Imo state, two major ironies exist and which most eloquently illustrate the point being made here. Take the road projects that were couched in such a language that Imo people believe that before Okorocha, not a metre of road had been built.
But today, the road projects have turned into the administration's nemesis. They provide the basis for much of the criticisms against the administration because of the shoddy and uncoordinated manner in which the projects are handled, the excuse over the rainy season notwithstanding. Then take the free education issue. Imolites are now confronted with the stark realities of the promised free education.  Last count, less than one tenth of the young men and women who sat for the aptitude test for admission into the state owned university, has received the results. The reasons, we are told, is that that is in pursuant of the free education policy which would give 80 per cent of the admissions slots to non indigenes in order to make the free education policy easier for government to implement.  And tongues are wagging. But this is hopping that all that trick will no longer materialise now that our governor has seen the light.
On the whole, Governor Okorocha's admission that in governance not all that glitter is gold attests to my firm belief that our political gladiators believe more in their own personal prowess than in the fact that power belongs to God. When you get it, you return to Him to ask for the grace to do your own beat to the best of you abilities. Not the messiah or strong man syndrome which is the bane of our democracy