BY ONUCHUKWU HAMILTON – 08038726945.
Having accepted that Nigerians especially Imo indigenes celebrate Governor Roachas Okorocha who excitedly clocks 50 on the 22nd of September this year. Let me also solicit that I should be allowed to use this lofty and historic platform to discuss what appears the most pressing question "what kind of man is this governor whom we celebrate his 50th birthday? To my knowledge, but also the Imo indigenes that finds it difficult to visit home since the historic political revolution that gave their own son – Governor Okorocha the Imo Staff of Governance.
According to the philosophical theory of truth, truth is regarded not as a relative but as absolute, not as circumstantial, but as universal and the goal of human knowledge is the attainment of truth. In the light of the above, let me also maintain, in reference to the biblical principle where you and I have been mandated to know the truth and of course in this context, those who do not know the true picture of Governor Okorocha, may now foremost know that he is that same man on a Rescue Mission.
Remarkably, the 22nd of September, 1962   ends the 9th months pregnancy of Late Mrs Okorocha  who was interestingly delivered of a bouncing baby boy known today as Governor Ethelbert Anayo Rochas Okorocha – whom Nigerians in diaspora describe as a unique Nigerian, a great philanthropist of no equal measure, a teacher and educationists, an orator, an apostle of peace, a detribalized Nigerian, a politician, a great business mogul whose name is synonymous with success, father to thousands of poor Nigeria children and symbol of the new generation.
It is on record that our 50 years old Governor is a master of both the local politics with the guts, the cash, the flamboyance and zealous supporters to take the crown of either Governance or Presidency when the Civil Society reclaimed the reigns of power from the military in May 29th 1999 – but as a gentle man who knows how to fly the air like birds, swim the sea like fish – and the art of living together with his brothers,  he allowed the former Governors like Chief Achike Udenwa and Chief Ikedi Godson Ohakim exhaust the leadership strength they have as to see if the people of Imo State could be liberated from the stifling asphyxiating embrace of sol-disant military messiahs who had no respect for human rights and the rule of law.
Before the expiration of Chief Ohakim's four years tenure, Imo indigenes started yearning for a change and there was an urgent need to speedily measure up with sisters states who were already developing at a geometric pace. The worrisome situation created an unprecedented political tension in the state and there was an emotional need to search for a true illustrious son of Imo who has the leadership guts to correctly steer the ship to redress the state economy that was shrouded with shameful characteristics.
To announce the arrival of Chief Rochas Okorocha as the choosen messiah, Imo people decided to formerly thank God for his birth on the 22nd of September, 2010 just as we are remembering him today. The event was scheduled to hold at Dan Anyiam Stadium Owerri where every stakeholder should have access and a major playground for Imo indigences but same dictators dictated otherwise, implying politics of exclusion and intimidation which in no doubt impacted negatively on the psyche of the people, resulting in disillusionment, loss of faith and retaliatory aggression against the former Governor Ohakim and the entirety of Peoples Democratic party leadership in Imo State.   This surprisingly became the immediate cause of a mass political revolution against the Peoples Democratic Party led administration in Imo because it was a sort of embarrassment on the people who rightly own the government according to the principles of democracy as defined by Abraham Lincoln.
Outside Abraham's concepts of democracy, other democratical idealists advocate sovereignty of the people, government based on the consent of the governed, majority rule, minority rights, guarantee of basic human rights, equality before the law, social, economic and political pluralism, values of tolerance, pragmatism, co-operation and compromise. It is on these pillars that every democratic system ought to stand. Any culture that lays claim to democracy title ought to exude with these fragrance. If democracy meant anything for Chief Ikedi Ohakim and Chief Emma Odor who claims in the media that he was not duly told to release the stadium, the duo of Chief Ikedi and Chief Odor should have tolerated and released the stadium to Imo people who own it and wanted to use it.
Night after night, prayers were said for a fresh election in Imo and after campaigns and the electioneering processes that was synonymous with Topsy  Turvey, his Excellency Governor Rochas Okorocha unseated Chief Ikedi Ohakim on May 6th 2011 with a resounding victory because the voice of the people has been said to be the voice of God. Today, he is the 14th Governor of Imo State and the 5th to be democratically elected.
Having discussed a little about the emergence of Governor Rochas, the next question on the lips of many should be, where will Governor Rochas Okorocha rank in the political history of Imo State? Will he be remembered as a great leader or a poor one? But I feel reasonably sure that he will get high rating perhaps among his predecessors and if the truth most be said, his only political rival now whom he will surely beat is Late Samuel Onunaka Mbakwe.
The best mission statement at this time wouldn't have been any thing better than "Rescue Mission" which is all embracing because in administration every sector is important but the difference here is that, all was entrapped into frustration and crisis. His Rescue Mission Agenda is timely and has unarguably, restored liberty and freedom which Imo State enjoy now like a waft of cool air on the face of a man who spent the mid day in the sun.
Rochas administration has impacted on road sector like no other in the past years. A 15 Kilometer road construction is ongoing in each of the 27 Local Government Areas of the state with flyovers and bridges at needed areas and contractors are not embittered. The present administration has turned Imo to the cynosure of all eyes in terms of education. This is as a result of the compulsory qualitative free education which Governor Rochas has declared from nursery to the tertiary institutions in the state – with allowances paid monthly to encourage students.
In the health sector, a lot has been done like the compulsory General Hospitals being sited in all the 27 Local Government Areas to be well equipped and managed by refined medical experts in line, with the Rescue Mission philosophy. Same confidence has been extended to Youths and Sports Ministry, Agriculture and Rural Development, Culture and Tourism, works and Transport, Ministry of Lands and Urban Development, all the service commissions, ministries and extra-ministerial departments.
Imo State, by composition and structure is a state with peculiar characteristics.  Out of an estimated 250 ethnic groups in Nigeria with languages of their own, Imo is populated by a single group – the Ibos with a common language – Igbo.  Urbanisation which has brought foreigners and Nigerians from other ethnic groups to live in the state has not derailed Imo State from holding its promise of captivating colour, laughter and instinctive hospitality.
This justifies why Governor Okorocha whose birth is being celebrated today, is interested in aligning wisely with both local and renowned foreign based entrepreneurs to turn the state into a tourist base of both the nation and by extension Africa.  To achieve this goal – is never a child's play besides one can agree with me that the Governor met an empty treasury. Though he has been shielding this aspect and optimistically assuring the populace that Imo is the richest state in Nigeria.
Reminiscently, shortly after he was sworn in on the 29th of May, impatience caught up with Imo people, expectations of him heightened, people thought that miracles would happen overnight because he made too many promises during the guber campaign.  Even his predecessor strongly challenged his free qualitative education campaign program and saw it as one of those political gimmicks used to woo electorates, bu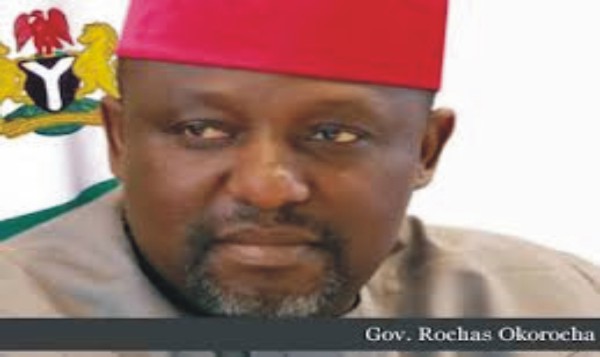 t today, the tales of his gigantic projects for the state have changed.  People now query how he funds these projects. In my extrapolation concerning Governor Rochas, he exhibits the courage of the first earth man to step onto the moon surface, Neil Armstrong who although may had found it easy stepping onto the moon but smelt rod in getting out and not declining, he hopes and thinks that it is the beginning of an era when man understands the universe around him and the beginning of the era when he understands himself.
In the face of Imo economic challenges orchestrated by do no well predecessors, our 50 years old Governor Owelle Rochas Ethelbert Anayo Okorocha believes that problems could be solved by using humor.  He laughs and makes people laugh.
As we discuss today, Education alone is not on Governor Okorocha's priority list, other sectors are feeling the impact of his Rescue Mission Agenda.  The administration undoubtedly operates an economy which is market oriented, private sector led, technology driven, broad based, open and internationally relevant.  Should I mention the twenty thousand Naira minimum wage and payment of other allowances which Imo workers enjoy today – let alone the world class Imo administrative blocs especially the new state government house he designed and built within his short stay in office.