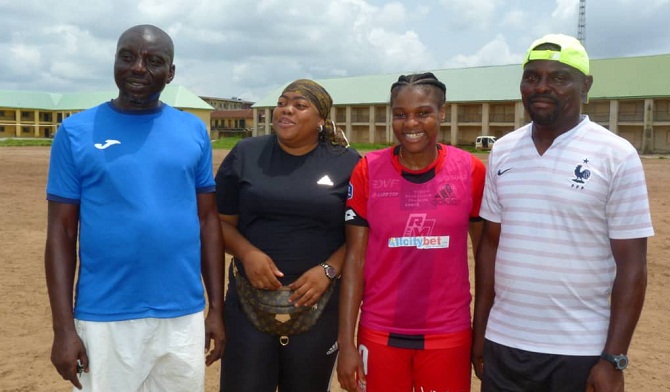 The Ex -Iwuanyanwu National Players now Heartland FC have expressed their appreciation to the football stakeholders in Imo and the nation as well as those in diaspora for their various roles in giving their Fallen colleague Late Collins Amadi "Zigima", a worthy burial.
Last weekend the ancient but quite Obiangwu Community in Ngor Okpuala LGA was agog as members of Ex Iwuanyawu National Association and sports lovers in Imo state and beyond paid their last respect to former legend of the club Collins Amadi AKA ( Zigima) as his corpse was buried at his ancestral home amidst faces of agony, pain and tears flowing from sympathisers.
Recall that the deceased who was former Iwuanyawu nationale player also played in Germany before coming home to put pen to paper for the famous Arugo FC, Owerri that made waves at the then FA Cup (now Aiteo Cup).
Zigima as he was properly called was an utility player noted for playing in every department of the game and was divinely positioned to support his team when the need arises.
He was discribed by many as a frank man who will always tell you his mind no matter whose ox is gored.
The deceased is equally said to be a man of honour and respect for everyone no matter their class or position in life that which also made a lot of people to love him.
Reacting Journalists aftee the interment, Mr Casmir Mbachu, Chairman of the group who also coordinated the burial Committee set up for the burial with Coach Obinna Obiaka and Willy Uduby as the assistant said the association has lost a motivator who is allways ready to push them to the next level to achieve results for the association.
They thanked the Imo State football association led by Mazi Amanze Uchegbulem and the Commissioner of Youth and Sports Development in Imo State, Hon Dan Ogu for their support towards the burial and the family.
They further expressed happiness to the creme de la creme sports administrators and dignitaries who came from across the country to pay their last respect to the football legend.