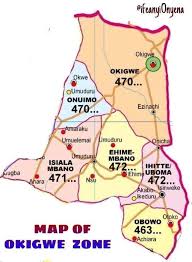 A strong socio cultural group known as Concerns Citizens of Isiala Mbano Local Government Area of Imo state has told the people from Osuh and Ugiri clan nursing the ambition to contest the upcoming Chairmanship election in the area to forget about the ambition.
They made this known in a release made available to the press by the Chairman and Secretary of the above group, Mr. Uchenna Obi and Mr. Edward Ekwelem where they stated the people of Mbama clan should be allowed and supported to produce the next chairman of Isiala Mbano Local Government Council.
According to them, "It is highly condemnable that the people of Osuh and Ugiri clan that are already occupying the seat of House of Assembly, Federal House of Representatives, Local Government Area Party chairman and even the IMC chairman of the Local Government wants to contest the upcoming chairmanship election against the zoning arrangement that exists in Isiala Mbano Local Government Area.
They duo maintained that every right thinking individuals in Isiala Mbano Local Government Area should support Mbama clan to achieve this dream of producing the next chairman of the council.
Moreso, Isiala Mbano Local Government belongs to all of us and nobody should deny Mbama their rightful position.
They enjoined the people not to allow greedy politicians to destroy the love, peace and unity we are enjoying in Isiala Mbano Local Government Area.