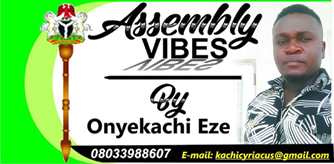 Assembly Vibes Thursday June 16, 2022
DEFECTION; IMO DEPUTY SPEAKER, EX SPEAKERS, OTHERS RISK REMOVAL
•AS APGA INTENSIFIES COURT ACTION
There is fire on the mountain for six Lawmakers of Imo State House of Assembly if what this newspaper gathered are considered.
The Imo State chapter of the All Progressive Grand Alliance, APGA is set to reclaim its mandate given to specific members of the 9th Assembly.
They are Honorables; Amara Iwuanyanwu (Nwangele), Paul Emeziem (Onuimo), Chiji Collins (Isiala Mbano), Ekene Nnodumele (Orsu), Chidiebere Ogbunikpa (Okigwe), and Michael Onyemaechi Njoku (Ihitte Uboma).
The aforementioned won the 2019 elections under APGA, but later defected following the then political tide in the State.
However, the "kokorokoo" party this time is leaving no stone unturned in sending them parking for leaving the party's platform for another.
A federal high court sitting in Owerri will on Thursday 14th July 2022 continue to hear a suit between the leadership of All Progressives Grand Alliance, APGA and six Lawmakers who won their elections on the platform of the party.
When the matter in suit no FHC/OW/SC/27 was called up yesterday 15th June 2022, the presiding judge, Justice Bello, wanted to know whether the six Lawmakers actually defected to another party after winning elections on the tickets of APGA.
Consequently, the motion on stay of execution was struct out to enable the honourable court to hear the substantive suit.
The legal Chief, legal officer representing INEC, Mrs Onyemalukwe, the lawyer representing APGA, Mr C.I. Asika Ilobi and the lawyers representing the accused persons all agreed on the adjourned date.
Speaking to pressmen at the court after the matter was adjourned, Barr Asika Ilobi said they wanted to determine whether the accused lawmakers have right to defect to another party having won on the platform of different party. The APGA lawyer said that the outcome of the legal fireworks will deepen democracy in the country and will in a long way shapen the electoral process in Nigeria.
Also speaking to newsmen at the court, the state Chairman of APGA, Hon John Iwuala cited the case ruled by supreme court of Nigeria between Rotimi Amaechi and PDP where the apex court ruled that it's the party rather than individuals that win elections in Nigeria.
He opined that apart from the affected Lawmakers to forfeit their seats as legislators, they should also refund every salary and entitlement they have so far collected as members of the state Assembly.
The state Secretary of the party, Pastor Alphonsus Eberendu, the Owerri zonal Chairman, Mr Cosmos Unakalamba, the Owerri zonal woman leader, Lady Grace Ugo, Engr Udensi and Hon. Emeka Nkwoada, the state Publicity Secretaries were sited in the court.
ONYEKACHI EZE BAGS "JOURNALIST OF THE YEAR" AWARD
Perseverance and diligence to Journalism profession has continued to attract goodwill for Onyekachi Eze, as he has added another award to his archives.
After the recently bagged recognition from the Church, comes yet another one from an International modeling brand.
Eze was on Saturday, June 4, 2022 at the Gojane Event Center Owerri, Imo State bestowed with an award of the "Journalist Of The Year", by Chris Events and Model Company.
This was during the occasion of the 12th edition of Mr & Miss Imo Queen Beauty Pageant, where Imo distinguished personalities were honored for their exceptional services to humanity.
Handing over the award to Onyekachi Eze, the CEO/Project Director, Hon Chris Ikoku Amakor disclosed that the company painstakingly selected personalities who have distinguished themselves in their respective fields.
Ikoku opined that among all the Journalists in Imo State, Onyekachi Eze had contributed immensely to the development of the youths, tourism and entertainment in Imo State and Nigeria at large.
He charged him and the other award recipients to sustain the tempo.
In appreciation, Kachi Eze lauded the company for finding him worthy of recognition.
He dedicated the award to his immediate family, Management and Staff of Trumpeta Newspapers Imo State, and to all who in one way or the other have contributed to his success story so far.
However, the Oru East born media professional assured to always maintain the Journalism ethics in the discharge of his duties.
LAWMAKERS MAKE FIRST AID BOXES, FIRE EXTINGUISHERS COMPULSORY FOR COMMUTERS, OFFICES IN IMO
This may be another phase of seriousness and concern emanating from the Law making body of Imo State as a mandatory call for every commuter to obtain a first aid box and fire extinguishers in their vehicles was made.
Aside commercial vehicles, private cars and offices are also robed in or be ready to face a stiffer action by the Law.
Although the motive of the latest move might be for safety purposes and for the generation of IGR for Imo State Government through the sale of the items, Busimo drivers are in for fresh spending.
This resolution arrived from a motion presented on the floor of the House by the member for Aboh Mbaise State Constituency, Hon Eddy Obinna.
He optimistically stated that when duly enforced, it would go a long way in curbing most of the hazards often witnessed on the Roads.
Eddy Obinna noted that the benefits of having a first aid box and fire extinguishers in strategic places are numerous.
He regretted that the important provision of the National Road Traffic Act(2012) which provides that, "all motor vehicles plying any public road shall have compulsorily a first aid box amongst other gadgets is overlooked and ignored which has resulted in avoidable deaths.
The Aboh Mbaise man further explained that having first aid box and fire extinguishers in private and public vehicles will help give timely assistance in case of road or office mishap, than waiting for help from emergency medical services.
"Having first aid box in a vehicle can not only prove to be essential in the event of serious accident, but also minor mishaps such as cuts, scrapes and burns. Ministry of Public Safety should ensure public establishments have a well equipped first aid box and fire extinguisher in their offices".
Continuing, the Deputy Chief Whip disclosed that adherence to the resolutions will be strictly followed.
After the Members contributions on the motion, the plenary presided by Speaker Rt. Hon Kennedy Ibeh resolved to urge the Commissioners for Transport, Health and Public Safety to direct all commercial vehicle operators, Schools and other public establishments in the State, to acquire Government approved first aid boxes and fire extinguishers for their vehicles and domain.
They were further urged to direct the National Union of Road Transport Workers, NURTW, Public Safety, Vehicles Inspection Officers, VIO, and Road Safety to enforce compliance and adherence.
3 YEARS ANNIVERSARY: SELF APPRAISALS ROCK IMO LEGISLATURE
Hurray, Lawmakers of the 9th Assembly of Imo State Parliament have clocked three years in office.
The Members were inaugurated on June 2019 after their victories at the polls.
They are twenty-seven of them in Imo State, each representing a State Constituency.
The anniversary which fall in line with the Democracy day, generally marked by Nigerians ushered in this set of Lawmakers.
Aside two of them whose seats were declared vacant by the Rt Hon Kennedy Ibeh's Leadership, Honorables; Tochi Okereke (Ngor Okpala) and Obinna Okwara (Nkwerre), the remaining 25 are still in office with their tenure ending in 2023.
However, for the past three days, the social media was awash with each Member felicitating selves on the past three years as Lawmaker of Imo State.
The most prevailing headlines written in their anniversary fliers was each stating how effective their representation had been.
Even those with little or no legislative bills or motions were among those claiming to have impacted tremendously in the legislature of Imo State.
To crown it all, during Tuesday's June 14, 2022 plenary session, the Lawmakers commended selves for living up to expections.
For those who got return tickets for 2023 elections, they expressed readiness to making the 10th Assembly more robust and impactful than it had been.
As Members Pour Encomiums On Speaker Ibeh
Hon Johnson Duru: "You have trained us well. Mr. Speaker, you are a very good Leader. We are happy to have you in this 9th Assembly. Our wish is that your reign will continue till the end of this 9th Assembly, and we pray we don't have anybody less than your quality in the coming 10th Assembly.
"Though it has been 3 years of vicissitudes and uncertainties, but we have remained resolute courtesy of our governor, His Excellency Sen. Hope Uzodimma. Mr Speaker we love you so much. You have trained us and I can say that you are the best Speaker we have had".
Hon Eddy Obinna: "It is three years of successes and legislative landmarks. The House being championed by Mr Speaker is full of excellence. Mr Speaker has given the 9th Assembly a positive image which has rubbed off on us. No wonder our various Constituencies have elected us to return. I also thank the governor for driving Imo vehicle very safely".
Hon Kanayo Onyemaechi: "Mr. Speaker, you are a true leader and champion of the legislature in Imo State. We have had an independent legislation devoid of executive interference. Mr. Speaker, you have been leading us well and we will follow you till the end of the 9th House".
However, the Obowo born Speaker, Kennedy Ibeh in response opined,
"I am proud of all of you. You have been so wonderful. Without you I cannot be as good as you claim I am".