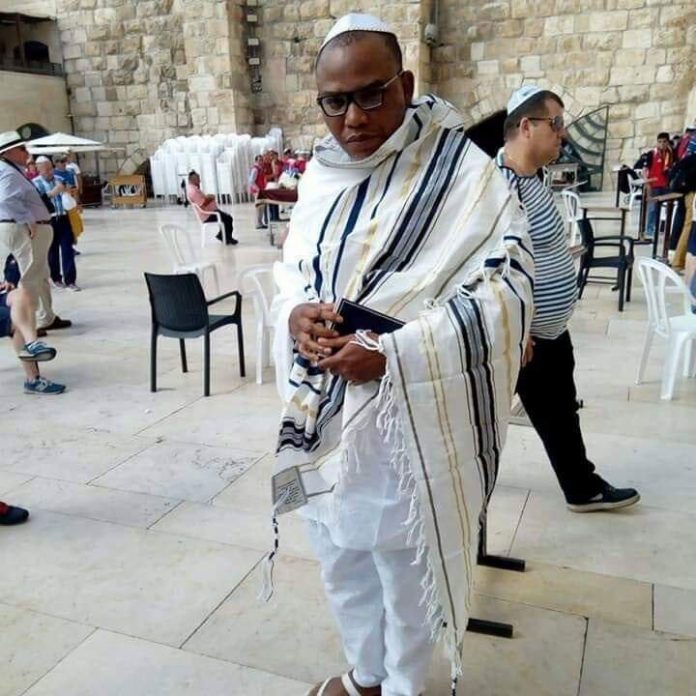 Barely few weeks to the conduct of the presidential and National Assembly election in Nigeria, an Abuja based Constitutional Lawyer and All Progressives Grand Alliance (APGA) candidate for Imo East Senatorial District (Owerri zone) Mr Chyma Anthony has expressed worry and fears that the continued detention of the leader of the Indigenous Peoples of Biafra otherwise known as IPOB, Mazi Nnamdi Kanu portends great danger to the conduct and delivery of credible, fair and violence-free polls, all Nigerians could be proud of.
Chyma Anthony popularly known as Odiuko explained that not only will Kanu's release guarantee relative peace in the Southeast ahead the elections, it will also contribute in making the victory of any leading presidential candidate possible on first ballot since geographical spread is a sine-qua-non.
According to him, the tension and sustained violence in the southeast region with the potentiality of marring the scheduled polls could be averted if President Muhammadu Buhari will accept to eat the humble pie, and allow Mr Kanu to breathe the air of freedom in the next couple of weeks.
The international mediator and development expert who however blamed the Federal Government for vehemently refusing to grant the IPOB leader freedom despite several court judgements, quickly called on the Southeast governors whom he said wield enormous powers to meet, strategize and proceed to Abuja to convince Mr President to release Nnamdi Kanu within the next two weeks to make way for relative peace that would restore confidence to the electorate such that they will turn out enmassee to vote for candidates of their choice.
"I don't want to dwell so much on the several court judgements particularly that of late last year that unambiguously pronounced unconditional release of the IPOB leader.
The judgements under reference were very valid and made by courts of competent jurisdictions presided over by highly distinguished Justices.
 Dismissing such judicial pronouncements with a wave of hand by the Federal Government is to say the least, the height of unwarranted attack on our democratic norms, values and credentials.
But let me at this juncture, leave that out and suppose that our President wasn't properly advised as per those judgements.
The biggest challenge and puzzle staring all of us in the face now is the conduct of the coming general elections to get new crop of leaders for the next democratic dispensation.
Without relative peace in all the regions particularly the Southeast, we may find it difficult to elect a new president for this great nation, among other officials.
I therefore urge the southeast governors to summon an emergency meeting, strategize well and proceed to Aso Rock with the sole intendment of convincing Mr President to grant unconditional release to Mazi Nnamdi Kanu at least in the next two weeks.
Anambra State governor, Prof Chukwuma Soludo had made similar demand from the president not quite long ago, First Republic Aviation Minister and Elder statesman Chief Mbazuluike Amachi also made such appeal before he died among other Igbo leaders, yet our dear President Muhammadu Buhari never granted that.
Kanu's state of health is another source of worry to all and sundry at this auspicious time.
 IPOB Leader's   continued detention from all I can see could mar the general elections.
I therefore appeal to President Muhammadu Buhari not to sweep this weightier matter of the law, and of public interest too under the carpet.
Nnamdi Kanu's freedom in the next couple of weeks if Mr President grants it, will guarantee relative peace and stability that would facilitate the conduct of credible, fair, violence-free and acceptable polls that most Nigerians could be proud of", Chyma Anthony concluded.