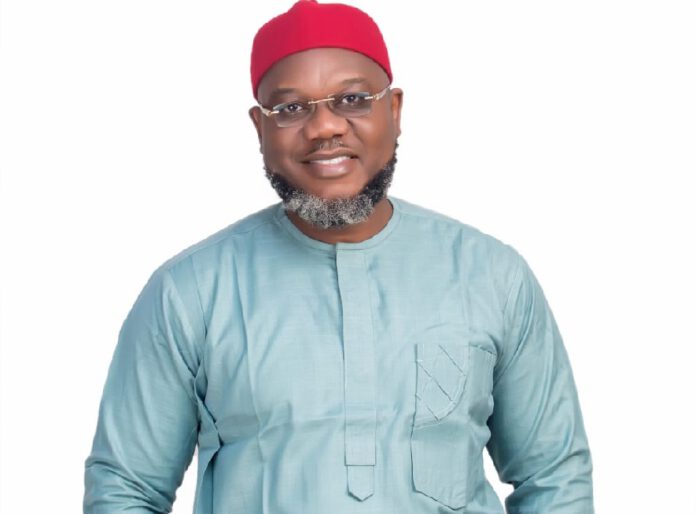 I must admit that the Imo  State chapter of the Labour Party, LP, is on a journey of self destruct and I refuse be a party to such an inanity  made possible purely by wrong evaluation of model political values triggered  by greed; selfishness and hold on the old political order of those behind this roller coaster to modern day Golgotha.
I had personally viewed Labour Party from the prism of a  platform that regained prominence through the selfless and sincere message by a model leader to rescue the people. LP was nationally built and globally accepted to be a  party for the masses, by the masses with the fundamental of  prudent management of resources, accommodation of various genre of people as well as being a refuge for even the poorest of the poor or the wealthiest in the society to pursue their respective political aspirations in service delivery to our people.
It is not in doubt that we all promoted the brand, LP at the embrace of our model leader HE Peter Obi who by his character and anticidents won our loyalty and support.
However, recent developments and my personal discoveries reveal that the LP in Imo which some of us fought hard to promote and build as well as  give its present stronghold in the Eastern Heartland State,  is now an arena empowering a criminal interprise and follow up of fraudulent cash out bazaar pattern for the highest bidder for a process that should emulate the values of fair play, transparency and sincerity. This is a shame and not acceptable to me as a person and I am sure it is a sour taste for other promoters of the Obidient Movement and members Labour Party across the state.
Let me be very specific; nothing really dramatizes the strange madness, or indeed, the monetary induced politics playing out in Imo LP than the beautiful sore orchestra in the name of the sales of governorship forms which is being sold at the exorbitant price of N25m.
Certainly I am convinced that this is not the dream and philosophy of our model leader and principal, His Excellency, Peter Gregory Obi, who has been canvassing for  moderation in all aspects of human endeavour as a vital key to progress and success in all political advancement. I was practically at the center of promoting  Obi's values in our political space and I worked harmoniously with other progressive minded Imolites from the early days of  Obi's presidential aspiration after he left PDP for LP, on the appeal of the values he represented and the hope he made shine through.
I therefore in no simple language frown at this obvious high rate of political mercantilism that is taking place in Labour Party in the state.
I can tell you for free that,  in fact, by pegging the LP governorship forms at N25 million,  the LP in Imo had both covertly and overtly, contravened the entire essence of Obi's campaign message anchored in competence, character and capacity. As far as I concerned, this is both horrendous and horrific. It is scandalous and condemnable. This in its multiplier effect would mean that in the next four years cycle of reelection no modest youth would be able  to afford a house of assembly form as it would probably be selling ay a ridiculous high of over N10 million. There are many who cannot openly speak against this illicit political trade but they are grumbling in secret and it is fundamentally dangerous for the party. While those that has gone ahead to empower this criminal enterprice by buying the form has not considered the grievous consequences it would be on our polity and the general psyche of our people.
This is not the direction Obi projected LP and it gives me great concerns, hence this conversation I am conscienceously interrogating herein.
Again,  I find it quite nauseating and disturbing that the dictatorial fashion in which the state executive of LP was sacked. In my humble opinion, the sack of LP state executive in Imo has exposed the party to many discreditable mannerisms of no trust, no confidence, no justice, no fairness, no equity and one that does not reward loyalty.
In summary, the Imo State Labour Party has reintroduced all the indecent practices that made our principal and leader, Obi, to quit and shun the other political parties to cast his bucket where the masses are. And this has casts a serious doubt on the party's integrity, discipline and honour.
As I stated above, I am drawn in by the model leadership Peter Obi has introduced to the  national space of our polity and that is the values I represent in my quest for an environment of decency, sincerity and competence.
Above other things I want to be remembered as that voice that spoke against the criminal pattern playing out in LP.  I am not standing against this criminal pattern and their promoters for the intent of giving the party bad publicity; not at all at least my huge contributions to growth and development of the party in the state are public knowledge.
Therefore, I strongly condemn all the prevailing monstrous activities now ravaging the Imo LP, of which were all avoidable and preventable if due the right counsel was followed, if the right steps of model leadership were taken!!!