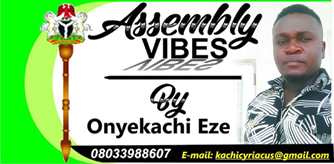 Assembly Vibes Thursday 30th March 2023
WHAT YOU DON'T KNOW ABOUT THE LATE RT. HON. ARTHUR EGWIM, HIS LEGISLATIVE IMPACTS
•IMO LAWMAKERS, CORRESPONDENTS MOURN
The death has been announced of the passage of the two time Member that represented Ideato North State Constituency in the Imo State House of Assembly, Rt. Hon. Barr. Innocent Arthur Egwim.
He passed away on Monday March 27, 2023, after a brief illness, Trumpeta Assembly Vibes learnt.
It is no longer news that Egwim's demise has left his immediate family, constituents, present Lawmakers of the 9th Imo Assembly, and all Staff of the Imo State House of Assembly in grief, especially when remembered his legislative sagacity and the circumstances surrounding his exit on earth.
The fallen legal luminary turned Lawmaker from Isiokpo community was first elected into the State Parliament in 2015 under the platform of the All Progressives Congress, APC.
During his first outing, Rt. Hon. Arthur Egwim held some principal positions and Chairman of relevant House of Assembly Committees like the Local Government and Chieftaincy Committee. He belonged to the Membership of other standing Committees as well.
Among the most viable committees then was that headed by Egwim. He never relegated the oversight functions, which is one of the basic duties of a Lawmaker.
This kept the LGAs and the traditional institution in the State on their toes for fear of Assembly scrutiny and summons.
Rounding up his first tenure in 2019, he was reelected under the Action Alliance, AA, courtesy of the support base of the then former Governor of Imo State, currently the Senator representing Orlu Zone, Senator Rochas Okorocha.
Apart from Okorocha's support in ensuring that his loyalists got reelected for a second tenure, Rt. Hon. Arthur Egwim's sound representation manifested through the ballot.
His constituents were pleased with his first outing and gave him the nod for a second chance.
Still, he didn't disappoint them as he further embarked on Constituency representation, quality Bills (although yet to be passed), and numerous Motions which got the prompt attention of the Executive Arm.
Amongst his laudable motions was one geared towards combating the selling and intake of 'mkpuru-mmiri', and other related hard drugs. The said motion was a celebrated one in the State and beyond.
Security operatives banked in the Legislative backing to prosecuting dealers of 'mkpuru-mmiri'.
It is of note to state that 'Akuabata' was the Chief Petition Mover/presenter in the 9th Imo Assembly. On petition presentation, after Egwim, others follow.
The deceased Lawmaker, also known as "Akuabata" was loved by many, including the Assembly Correspondents.
He had a good working relationship with the Journalists attached to the House of Assembly.
Before the 2022 December holiday of IMHA, Egwim had a robust interactive, friendly session with the Correspondents. Little did they know that was the last session they would have with the Ideato North finest Legislator. May his soul rest in Peace.
It was learnt that he gave up the ghost barely 3 months to the expiration of his second tenure.
The Members-elect for the 10th House will be inaugurated in June this year, with Egwim as an outgoing House Member missing in action.
Although he had no opportunity of either clinching the Assembly or Reps ticket for 2023, his landmark projects in Ideato North, nay Imo State will be remembered.
Meanwhile, in a sorrowful mood, the Speaker of the Imo Assembly, Rt. Hon. Emeka Nduka has confirmed the demise of Egwim through a press statement.
The Lawmakers through the Speaker described their fallen colleague as a jolly fellow man, a passionate father and a great parliamentarian.
He confirmed that Egwim's death will be greatly missed by the House.
Nduka prayed for his repose.
In the same spirit, the House of Assembly Correspondents are not left out in mourning the deceased House Member, considering the working relationship he shared with them while alive.
The obsequies will be announced by the bereaved family in due time.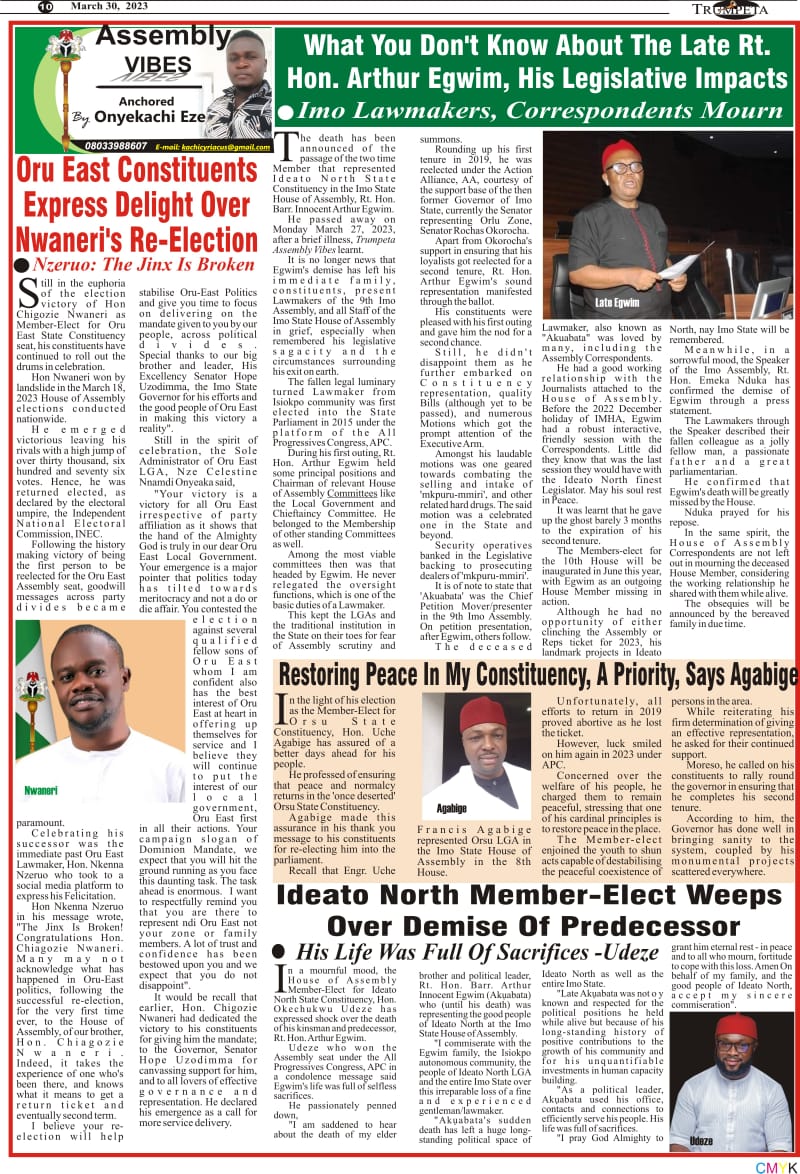 IDEATO NORTH MEMBER-ELECT WEEPS OVER DEMISE OF PREDECESSOR
•HIS LIFE WAS FULL OF SACRIFICES -UDEZE
In a mournful mood, the House of Assembly Member-Elect for Ideato North State Constituency, Hon. Okechukwu Udeze has expressed shock over the death of his kinsman and predecessor, Rt. Hon. Arthur Egwim.
Udeze who won the Assembly seat under the All Progressives Congress, APC in a condolence message said Egwim's life was full of selfless sacrifices.
He passionately penned down,
"I am saddened to hear about the death of my elder brother and political leader, Rt. Hon. Barr. Arthur Innocent Egwim (Akụabata) who (until his death) was representing the good people of Ideato North at the Imo State House of Assembly.
"I commiserate with the Egwim family, the Isiokpo autonomous community, the people of Ideato North LGA and the entire Imo State over this irreparable loss of a fine and experienced gentleman/lawmaker.
"Akụabata's sudden death has left a huge long-standing political space of Ideato North as well as the entire Imo State.
"Late Akụabata was not o y known and respected for the political positions he held while alive but because of his long-standing history of positive contributions to the growth of his community and for his unquantifiable investments in human capacity building.
"As a political leader, Akụabata used his office, contacts and connections to efficiently serve his people. His life was full of sacrifices.
"I pray God Almighty to grant him eternal rest – in peace and to all who mourn, fortitude to cope with this loss. Amen
On behalf of my family, and the good people of Ideato North, accept my sincere commiseration".
RESTORING PEACE IN MY CONSTITUENCY, A PRIORITY, SAYS AGABIGE
In the light of his election as the Member-Elect for Orsu State Constituency, Hon. Uche Agabige has assured of a better days ahead for his people.
He professed of ensuring that peace and normalcy returns in the 'once deserted' Orsu State Constituency.
Agabige made this assurance in his thank you message to his constituents for re-electing him into the parliament.
Recall that Engr. Uche Francis Agabige represented Orsu LGA in the Imo State House of Assembly in the 8th House.
Unfortunately, all efforts to return in 2019 proved abortive as he lost the ticket.
However, luck smiled on him again in 2023 under APC.
Concerned over the welfare of his people, he charged them to remain peaceful, stressing that one of his cardinal principles is to restore peace in the place.
The Member-elect enjoined the youth to shun acts capable of destabilising the peaceful coexistence of persons in the area.
While reiterating his firm determination of giving an effective representation, he asked for their continued support.
Moreso, he called on his constituents to rally round the governor in ensuring that he completes his second tenure.
According to him, the Governor has done well in bringing sanity to the system, coupled by his monumental projects scattered everywhere.
ORU EAST CONSTITUENTS EXPRESS DELIGHT OVER NWANERI'S RE-ELECTION
•NZERUO: THE JINX IS BROKEN
Still in the euphoria of the election victory of Hon Chigozie Nwaneri as Member-Elect for Oru East State Constituency seat, his constituents have continued to roll out the drums in celebration.
Hon Nwaneri won by landslide in the March 18, 2023 House of Assembly elections conducted nationwide.
He emerged victorious leaving his rivals with a high jump of over thirty thousand, six hundred and seventy six votes. Hence, he was returned elected, as declared by the electoral umpire, the Independent National Electoral Commission, INEC.
Following the history making victory of being the first person to be reelected for the Oru East Assembly seat, goodwill messages across party divides became paramount.
Celebrating his successor was the immediate past Oru East Lawmaker, Hon. Nkenna Nzeruo who took to a social media platform to express his Felicitation.
Hon Nkenna Nzeruo in his message wrote,
"The Jinx Is Broken!
Congratulations Hon. Chiagozie Nwaneri.
Many may not acknowledge what has happened in Oru-East politics, following the successful re-election, for the very first time ever, to the House of Assembly, of our brother, Hon. Chiagozie Nwaneri.
Indeed, it takes the experience of one who's been there, and knows what it means to get a return ticket and eventually second term.
I believe your re-election will help stabilise Oru-East Politics and give you time to focus on delivering on the mandate given to you by our people, across political divides.
Special thanks to our big brother and leader, His Excellency Senator Hope Uzodimma, the Imo State Governor for his efforts and the good people of Oru East in making this victory a reality".
Still in the spirit of celebration, the Sole Administrator of Oru East LGA, Nze Celestine Nnamdi Onyeaka said,
"Your victory is a victory for all Oru East irrespective of party affiliation as it shows that the hand of the Almighty God is truly in our dear Oru East Local Government. Your emergence is a major pointer that politics today has tilted towards meritocracy and not a do or die affair. You contested the election against several qualified fellow sons of Oru East whom I am confident also has the best interest of Oru East at heart in offering up themselves for service and I believe they will continue to put the interest of our local government, Oru East first in all their actions. Your campaign slogan of Dominion Mandate, we expect that you will hit the ground running as you face this daunting task. The task ahead is enormous. I want to respectfully remind you that you are there to represent ndi Oru East not your zone or family members. A lot of trust and confidence has been bestowed upon you and we expect that you do not disappoint".
It would be recall that earlier, Hon. Chigozie Nwaneri had dedicated the victory to his constituents for giving him the mandate; to the Governor, Senator Hope Uzodimma for canvassing support for him, and to all lovers of effective governance and representation. He declared his emergence as a call for more service delivery.