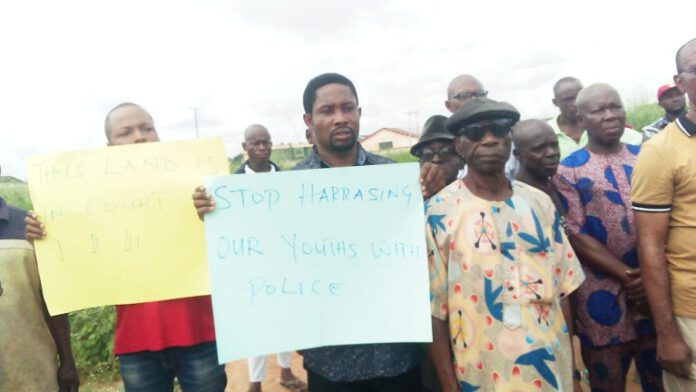 .Cries Out To Govt for Help
Apparently not comfortable with the approach of a company in their area, AIFY Global and attitude of the Chief Executive of the company, Ifeanyi Nwagu, the Umuanyahu Umuakali Naze Community in Owerri North LGA of Imo State has raised the alarm asking the firm to leave their ancestral land.
The community has therefore requested the Imo state government and relevant authorities to intervene and ensure AIFY Global and the owner, Nwagu vacate from their land.
Tension has enveloped Umuanyahu Umuakali Naze community following allegations leveled against the owner of AIFY Global accused of forceful takeover of their ancestral Nkporo land.
Amb.Ken Anoruo  the Umuakali Youth Association chairman told TRUMPETA that they want the government to intervene and help them claim back their land which was illegally acquired.
Speaking to Trumpeta who was at the location to monitor a protest by the community, Sir Okechukwu Odocha, a retired Assistant Comptroller of Immigration, stated that they are currently in court with Ifeanyi Nwagu over his alleged forceful takeover of their land and against judicial regulations he is erecting structures on the disputed land.
"Nwagu has mocked the sensibilities of our community by his actions. Ab initio, when this matter came up, we met with him and told him sincerely that the land which he claims is in his custody was illegally acquired for it can't be sold because it's an ancestral land.
"Nwagu insisted that the land was given to him and when we demanded for valid documents to ascertain true ownership, it was found out that cluster was where was actually allocated to him but he was deceived by some alleged miscreants to acquire the Nkporo land of Umuanyahu Umuakali community" the community leader stated.
Mr Okechukwu Njoku a retired Director of Standard Organization of Nigeria, SON, who spoke to TRUMPETA also  made mention that all he wants is "for the right thing to be done which is for Ifeanyi Nwagu to respect court order and desist from further developments and ongoing projects on the disputed land until the court rulings are over but unfortunately, information allegedly  has it that he is romancing with security operatives to scare away actual owners of the land"
One of the community leader  mentioned that the harassments and intimidation is becoming unbearable that some time ago, some of their youths were arrested over that land
From what was observed, 7th of June this year would be their next hearing in court and therefore, the community wants the AIFY Global boss,  Ifeanyi Nwagu  to stop further projects in the land until further notice.
The community does not only want the government to come to their rescue by helping them reclaim their Nkporo land from Nwagu but also stop him from using  police and security operatives  from harassing members of the community.
Efforts by our reporters to reach Nwagu and his Aify Global company to react proved abortive but a source informed this newspaper that he had paid a certain huge sum of money running into millions to the community through their lawyer for the land and is disturbed why they are disturbing him about usage of the place for business operations.