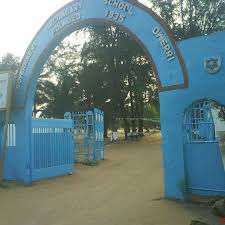 By Okey Alozie
Uncertainty has continued to trail the Education Sector and political hemisphere of Imo State.
Apart from seizure of results, collapsed buildings in schools, coupled with lack of Teachers and teaching equipment, the worst is said to have started happening. Information revealed that Teachers are now under serious threat for punishing students.
In Government Secondary College Owerri, located along Okigwe road, we gathered that a male Teacher (name withheld) was allegedly beaten to coma for flogging a student who was said to have disobeyed him.
The story has it that the student in question refused the directive and instruction of the teacher and this made the teacher to punish him by giving him some strokes of the cane.
In the process of flogging him, he got injured and thereafter, his parents were alerted and they came to see what happened.
On seeing the injury sustained by their child, they go provoked and eventually descended on the Teacher, we gathered. The teacher was rushed to hospital for treatment because of the extent of injury he sustained.
We were also told that the Principal (Junior Secondary Schools Government College Owerri) Mr Anatara was arrested by the security agents in connection with the matter. Students and other Teachers are now on the run until the matter is solved by the authority. When contacted the Executive Secretary Secondary Education Management Board (SEMB) Dr Mrs Adaugo T Nwanebo raised eyebrows on the matter and promised that it must be resolved amicably.
She disclosed that the Principal has regained his freedom and Academic Studies have resumed again in Government College Owerri.
She further disclosed that when the parties are out of police station, a panel will be set up by SEMB to ascertain the true position of what happened.
She said further that the Legal department is ontop of the situation to make sure that due process is followed in the matter.
She insisted that both teachers and students must do every possible to stay out of trouble, adding that nobody is allowed to take laws into his or her own hands.
Nwanebo said that there is always need to report to the appropriate authority first before going elsewhere.
She however maintained that justice must prevail in the matter at the end of the day.