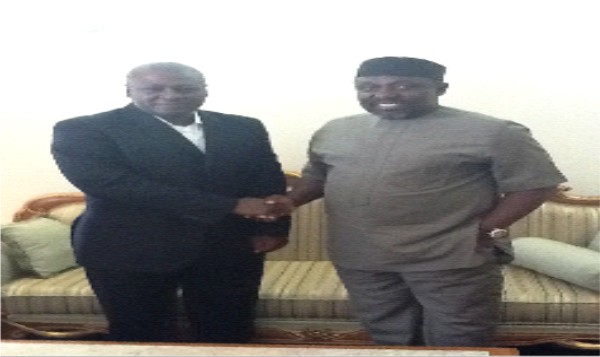 Okorocha Wants strengthening of Cultural Affinity with Ashante Kingdom
The Governor of Imo State Owelle Rochas Okorocha has called for the strengthening of cultural affinity with the Ashante Kingdom to deepen ties between people of the nations.   Governor Okorocha made the call during a visit to the Asantehene of Ashanti Kingdom His Majesty Otumfuo Osei Tutu II. He said since the Ashantis and Igbos share common cultural norms and mores, efforts should be stepped up for greater integration for mutual benefit of the people. "The cultures of our people are similar as well as their skills and industry.  We should take advantage of this moment to explore and share our common identity for the greater economic good of our people" he said.  Governor Okorocha pledged his readiness to open up the state to the Ashantis and all legitimate businessmen from Ghana and called for the exchange of cultural activities to promote rapid integration.
King Osei Tutu II who accepted Governor Okorocha's invitation to visit Imo State pledged to work toward the unity of Igbos and his subjects.  He praised the policies of Governor Okorocha as transformational and designed to lift millions of people from poverty. "I have watched with keen interest the impressive achievement in your state and your effort to provide free education to the poor.  I can only wish you well and urge you to continue to make a difference in the lives of the poor" he said.  The revered monarch said the preservation of a people's culture holds the key to their future and survival and promised to promote Igbo and Ashanti cultural exchange program.
In a related development Ghanaian President John Mahama has pledged to support the education policies of Governor Okorocha.
President Mahama made the promise when he received the Imo State Governor in his office in Accra.  He urged Governor Okorocha to continue providing effective leadership to the people and commended him for his philanthropy through the Rochas Foundation Colleges.  President Mahama who said his sister's mother if from the Balogun family in Offa Kwara State, pledged the commitment of his administration towards economic development of the region and improved ties with Nigeria.  "I have Nigerian roots and it's in our mutual interest to ensure a vibrant economic and cultural cooperation for our mutual benefit" he said.
Former Ghanaian president John Kuffour also received Governor Okorocha and urged him to work towards a greater cooperation between Nigeria and Ghana.