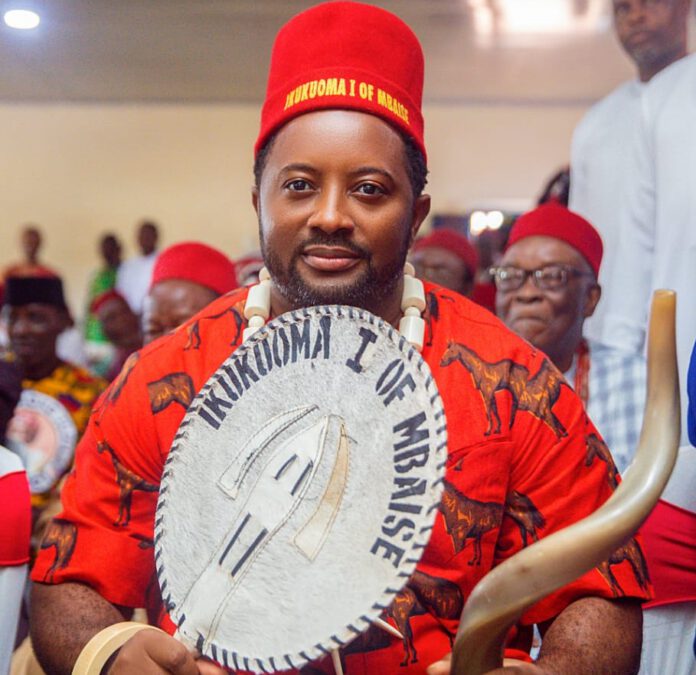 ..FRIENDS, WELL WISHERS CELEBRATE RENOWNED PHILANTHROPIST
The 15th of August 2023 was a day of worthy encomiums for High Chief Summers V.C Nwokie (Ph.D), as the entire traditional rulers (Ezes) in the Mbaise Nation collectively bestowed an illustrious title "Aka Ji Ikukuoma Mbaise" on him.
The historic event took place at the palace of His Roya Highness, Eze MJD Nwaturuocha in Nguru, Aboh Mbaise, where other prominent traditional rulers performed the conferment ceremony in unison.
In his acceptance speech, Dr. Nwokie thanked the entire Mbaise dynasty for such a prestigious honor bestowed on him, affirming that it has energized his resolve to continue with his humanitarian activities.
He thereafter pledged to put mechanisms in place to make sure that regular power/electricity supply within the three Mbaise Local Government Areas are guaranteed in a matter of months.
It was later followed by a triumphant return to his community,  Ezeagbogu in Ezinihitye Mbaise LGA, in a long entourage made up of his associates and friends, with thunderous sounds of traditional gun salutes renting the air as he berthed.
His palatial home later became an epicenter of merriment as he hosted his friends, well wishers and associates to a party with all traits of affluence.
Amongst the numerous distinguished guests who came to solidarize and felicitate with him were the Chairman of the occassion, High Chief Sir Chibuzor Enwereuzor ( OGBATURU ENYI Mbaise), the Governorship Candidate of PDP in Imo State and his Deputy, Dist. Sen. Samuel Nnaemeka Anyanwu and Sir Jones Onyeriri,  co-awardee, Rt.Hon Eddy Obinna (Member, Aboh Mbaise State Constituency),Hon. Henry Agbasonu ( Member, Ezinihitte Constituency) Hon.Dr Chukwuma C. Ojukwu (Sole Administrator, Ezinihitte Mbaise LGA), Hon. Sydney Emeka Agbo (Dep. Chief of Staff, Imo State Government), Imo State Football Association members ably led by the Chairman, Mazi Amanze Uchegbulam, Hon. Oliver Enwerem ( Former House of Assembly member, Ezinihitte Constituency, Sir Chime Aliliele, Hon. Ugochukwu Williams, Chief Tony Ihuoma ( Ugo Si Na Chi Mbaise) Eze Elect Chibuzor Nwokoma,  PDP members of Ezinihitte ably Led by Engr. CJ Njoku, APC members ably led by Hon. Mark Adindu, traditional rulers, titled Chiefs, several bodies as well as the ever glowing Ikukuoma WOMEN led by their Leader, Mrs Esther Aguamba and a host of others.
Dr. Summers Nwokie (Aka Ji Ikukuoma Mbaise) is an accomplished Diaspora based Scholar and businessman whose passion for philanthropy and humanity is unrivalled.