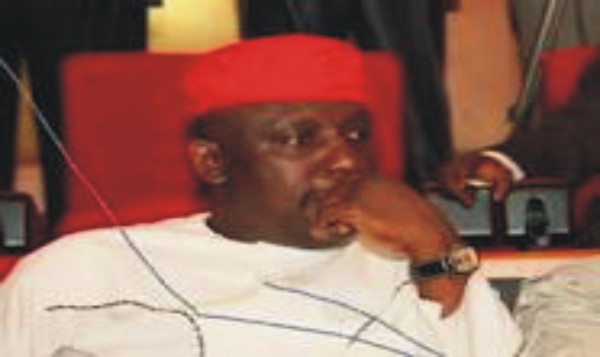 ust like the numbers of tricycle (keke-na-pep) on the road, I believe football lovers and fans of Heartland F.C, must be angry with last weekend's development. Anyway, I just thank God football has not taking God's position in man's heart, because of the rise and fondness of it amongst Imolites, Nigerians and the world at large. Whether as Spartans, Iwuanyanwu Nationale or now Heartland FC, there is just one club every Imo indigene or, particularly, Owerri resident follows passionately.
What got me provoked and compelled to write this piece, was that it is true that the Confederation of African Football (CAF) has thrown out the appeal of Heartland FC of Owerri after challenging the walkover the club suffered in the hands of US Bitam in last weekend's CAF Confederation Cup's second leg tie in Gabon.
It is true that after a tough but spectacular play, which was the first leg of the encounter played in Owerri ended with a score of 2-1 in favour of Heartland and the return leg was scheduled for April 6 at 16:00 hrs in Libreville Gabon, but could not hold.
It is also true that in its official statement recently, CAF confirmed that the referees and officials duly registered the absence of Heartland team at the time of kick off of the second leg tie. "The CAF Inter-clubs Committee considered that the absence of the team from Nigeria was mainly the responsibility of the club Heartland, rather than a case of force majeure". And it is true!
Well, it is consequently true, and in conformity with the body's article 16 of the competition regulations: "If for any reason whatsoever, a team withdraws from the competition or does not report for a match-except in case of force majeure accepted by the Organising Committee- or if it refuses to play or leaves the ground before the regular end of the match without the permission of the referee, it shall be considered loser and shall be eliminated from the competition. The same shall apply to the teams which were declared disqualified by decision of CAF." Mind you, it cannot be influenced by our Imo House of Assembly or by contractors who would want to buy it all in reversion.
It is even true and right that the team was stopped to play; maybe they wouldn't have done us proud again by winning the match that took them such unwarranted stress by the government. How would you expect them to win trophies for you again? The government has lost the desire to promote sports. No reasonable desire to support or empower our youths again. Okorocha's government has forgotten that desire and Will to support our Naze stars, and is simply the thing that will encourage them to do well. Desire is the key to motivation!
For Imo to be better, I think we will all claim not to know. We will continue to follow them at any direction they push us to, until 2015. Anyway, we will continue to manage and pretend not to know what is actually happening, until when we have another opportunity to cast our votes. Right now, we have our senses with us because we are no longer overzealously thirsty for change. We now know what we want as a result of lessons the past event has caused us. Everybody will not carry arm or weapons so to say, but we will articulately stand against those who promised us at night and on bed, but on their legs and at day time forgotten what they promised.
You can't wait? Common, we must finish it until 2015. Everybody will turn to prophets and Messiah overnight. The marvel of all history is the patience with which men and women submit to burdens unnecessarily laid upon them by their governments. Or do you not want Imo to be better again? I want to make that myself. What about you? We must conclude this race and adventure we caused ourselves. Imo and emergency governor? Ask Kema Chikwe how far, I think she has something to say. But to contribute? Count her out, because she has played her own role with the "Baba shi" words. Do we need fresh blood to get there? No, everybody must go to Abuja by 2015.
Can I hear a voice from Owerri zone? Agbaso again! Even as the dust raised by the recent allegation of fraud leveled against his brother, Jude Agbaso, the impeached Deputy Governor of Imo state is yet to be settled, Chief Martin Agbaso is reported to have declared intention to run for the Governorship election in 2015. That's interesting! But I don't really fancy the Agbasos when it comes to politics, because they don't usually get there.
According to the details of the interview which has been made public, Martin Agbaso was reported to have described Governor Rochas  Okorocha as one who parades himself in the garb of an 18th Century Emperor who is not worthy enough to govern Imo People. Said he, "I had made up my mind not to contest the 2015 governorship election in Imo State. I wanted to concentrate attention in my business. But now, I will contest the 2015 governorship election in Imo State. I will do this because of the politics of treachery and falsehood that is going on in Imo State presently. I will go into the 2015 fight with a determination that has never been seen before in me."
Indeed, how a race starts is not usually the way it ends. I see! So the young and old Agbaso did not know that ants could bite; meaning if power goes into their hands again, we will be used for practical? Ndi Imo could you imagine? The worst of it all is that he brags that he is a seer. Agbaso recalled how he told former Imo State Governor, Ikedi Ohakim that 2007 would be his waterloo in politics but that Ohakim was so blinded by power to see reasons.
"I have spent a greater part of my adult fighting for the good of Imo people. We supported Rochas Okorocha to become Governor, providing the platform, mobilizing the people and risking so much unto the struggle because we thought there was an honest intention to serve and the better the lots of Imo people.
"What we see now is politics of deceit of putting the interest of the people arid while pursuing inordinate ambition. There is no difference between the situation of Imo politics before 2011 and what obtains now. And just like we joined Imo people to chare out the bad leadership then, we will again, align with the people to see to the end of this present dragon that wants to destroy our dear state", Agbaso said.
So, within two years, he was unable to find out that he had been dining and wining with the devil's son or the devil himself? So, if not that his brother, Jude got impeached out of power play as he would make us understand, would he have opened up? Politically, I think the Agbasos should change plan, maybe for normal business or political backing. Yes, if they could stop playing politics and venture into supporting credible candidates without agreement. Meanwhile, we all know that selfishly their plan was to mortgage Imolites in an agreement they reached with Okorocha.