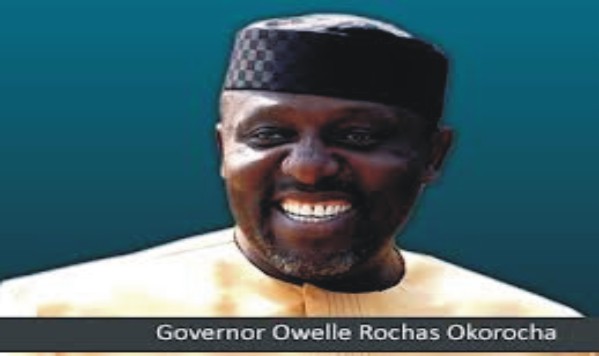 By Mazi Eke
Now it is official and a blunder too! The Governor of Imo State, His Excellency Owelle Rochas Anayo Okorocha, has abandoned the political party – the All Progressive Grand Alliance (APGA) that brought him to power amid stiff competitions and great expectations of good governance from Imolites. Governor Rochas fails to realize that loyalty is a-two way traffic. His abandonment of the party that brought the political power to him could come back to bite him at the butt. What the governor did was an act of disloyalty to Imolites. It is painful that he fails woefully to know that in politics, one cannot do it alone. Igbos does not trust the Hausa/Fulani and Yoruba political leaders because of their track records toward Ndi Igbo. Governor Rochas made a covenant with Imolites, and jumping ship after two years in office is an act of disloyalty. Traditionally, Igbo watches these groups that were with the governor on the stage recently in Owerri with unapologetic suspicion. Many people including me that have supported Governor Rochas even before he became governor are heading out in search of an alternative.  The Governor's decision alone to get into marriage without his brothers and sisters is selfish and arrogant. This write-up is not about whether or not Governor Rochas delivers as promised, but to analyze if his defection to All Progressive Congress (APC) could be regarded as smart maneuver or political "go in peace until we meet again" decision.
In 2007, then Candidate Olusegun Obasanjo was rejected by his people, still he won the national poll to become a president. Could history repeat itself in the case of Governor Rochas? Governor Rochas is not Obsanjo. The two are like apple and orange. In my opinion, for Governor Rochas to defect to an unregistered party without building its political structure in his Eastern home states are the biggest mistake of it all. From any practical sense at moment, Igbo is not willing to follow Governor Rochas to the uncertain and unregistered political party. Knowing the political climate in Nigeria with regard to the history of a ruling party, how could Governor Rochas believe that APC could meet its registration deadline? Assuming it does, it is too early to jump ship from a party traditionally regarded as Ojukwu Political Party. Did Governor Rochas think about this scenario? For the sake of this discussion; what is Governor Rochas' contingency plan in case the ruling party frustrates the registration of APC? Unlike Buhari and Tinubu who are the chieftains of their respective parties, Governor Rochas is not, and therefore has no power to relocate APGA to any merger. It could have been more honorable if the governor had resigned and started building APC from the scratch instead of this grand stand. To quit APGA at this time is ill-advised, but to turn around in one year today to state "I want to be a flag bearer of APGA" could be practically unattainable. Consequently, Governor Rochas has kissed the seat at Douglas House goodbye come 2015, and could find himself on the unemployment line.
Governor Rochas made a strategic plunder by decamping a party that handed him the mantle of leadership of Imo State. To some Imolites, it is regarded as a betrayal of trust.
To abandon the party that elected him mid-way of his first term is nothing but political harlotry. He has weakened his power of incumbency because he is now flying solo, but Governor Rochas must be reminded that politics has a lot to do with numbers and trust. His decampment could be his political demise. His strategic mistake could eventually write his political obituary because majority of Igbos cannot and must not follow him to APC where Mohammadu Buhari is positioning to be the APC flag bear that has not for one day condemned the killings and bombings of Igbo people in his Northern region. Initially, I looked upon Governor's defection with objective skepticism, but now, it is a clear political blunder, and very soon, Governor Rochas could be like a king without an empire. I have been relentless in my support for Governor Rochas, but now I am going to emulate him to defect my support to either APGA or PDP flag bearers depending on the candidates. For me to support any candidate for Imo State governorship seat, I have to scrutinize his or her track records. I will not support any candidate because of his or her residence is in a particular zone. I am not interested to support any candidate because he/she is a relative. I want to support a candidate of substance, integrity and truly committed to lift the people of Imo State out of poverty. I want to support a candidate that goes to bed, thinking on how to make Imo State better and best.
For Governor Rochas, he has no one to blame for decamping APGA at this time, but himself. Without shooting himself on the foot, he could have won re-election very smoothly, but ambition has its own price to pay. There is nothing wrong to belong to a national party, but his decampment is ill-timed and very dangerous. Could it be that his advisers may had advised him against this move, but he stubbornly and arrogantly neglected them? The old saying that charity begins at home is one of the wisest advices on record. Governor Rochas should have utilized his position to build a grassroots/ political machinery to give APC some taproots before committing to it. He should have waited for the party to duly register and participate in the opening of branch offices throughout Igbo land and survey the strength of Igbo support. He is like a fisherman that abandons his fishing boat to jump onto a sinking canoe. Governor Rochas has handed a sweet victory to either APGA or PDP candidates. In life, some people take care of a golden opportunity to make a difference, whereas, some picks up the opportunity and toss it to the bottom of my home town river  Otamiri River. I believe that Governor Rochas tossed his political career to the gutters because looking at the podium at his recent rally at Owerri; it could not take a second to realize that Governor Rochas was on a sinking ship. He was surrounded by mortal enemies of the Igbos. There was no single Igbo governor or presumed Igbo political heavyweights around him. To an average Igbo man/woman, they look on the Northerners with caution and tendency of untrustworthiness. I believe that Governor Rochas is taking Imolites for granted, thinking they could vote for him with his marriage to the North  time could tell the outcome of his political move. Former President of the United States of America, Mr. Ronald Reagan, once quoted "In politics, never say never." Could my analysis on Governor Rochas be a wishful thinking? I cannot continue to support Governor Rochas with his marriage with General Buhari because of Buhari's perceived support for Boko Haram  the killers of Ndi Igbo in their own country. It is not late for Governor Rochas to return to his party and wait for God's time to pursue any national office. The pattern of this pursuit portrays Governor Rochas as dangerously ambitious. In history, many great presidents were recorded as great governors. Two years in office and to jump ship at this time is not to the advantage of Governor Rochas. Taking Ndi Imo for granted could turn out to be a huge mistake.
Ndewo daa,
Mazi Eke writes from Austin, Texas, USA