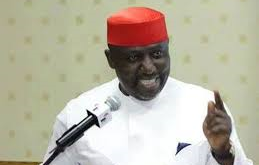 By Onyekachi Eze
Imo State Governor, Rochas Okorocha has confessed why Imolites branded him as "Okoroawusa" when he was inaugurated as the Executive Governor.
Rochas Okorocha while speaking yesterday the Imo International Convention Center, IICC Owerri during the swearing in of his political aides said that Imolites deliberately rechristened him as Okoroawusa out of envy and unjustifiable jealousy.
He opined that his enemies had nothing to gossip of him with, because he came as a messiah sent by God to salvage the people of the shackles of bad governance that nearly engulfed them.
Okorocha stated that when he became the Governor in 2011, he used to dress in Hausa regalia of "agbada" or "Danchiki" because it was where he spent part of his life
Similarly, he added that prior to their speculations of his origin daily characterized by gossips, he (Okorocha) decided to be speaking deep Igbo Language inorder to shame his detractors peddling false rumour about him.
Owelle told Imolites that both his academic education and part of his life has been in the Northern part of Nigeria which is the more reason he can't hate the Northerners.
Furthermore, he asserted that the love and respect he accord to Imolites and every other Nigerian is the same love he will shower on the Northerners for impacting meaningfully to his life without strings.
Owelle Okorocha further revealed that people believes in peddling false accusations other than being sure of what they say, stressing that when he commenced the construction of the 27 chapels in the LGAs and that of the government house chapel, it was rumored that President Buhari and himself had the intentions of Islamizing the State which was later proved wrong after they Imolites discovered the project was a neutral church, a place for the worship of God.
Meanwhile, Governor Rochas Okorocha seized the opportunity to give reasons for the bounced cheques issued to pensioners.
It could be recalled that recently, what bedeviled Imo pensioners was issues of bounced cheques.
According to the governor, not until pensioners learn how to file their documents on Local Government basis, the trend may continue.
He cleared the air by saying that reasons for the bounced cheques was caused by the discrepancies in LGAs, saying that the affected pensioners didn't give, present or file appropriately according to their LGAs and as such caused mixed up in the cheques.
Although he disclosed of the corruption in Imo pension system in the past governments, he expressed optimism that his government is not leaving any stone unturned in eradicating the padding.
Hence, he urged pensioners to follow due processes during clearance, as he promised for more 3 months pension before the 2017 yuletide.