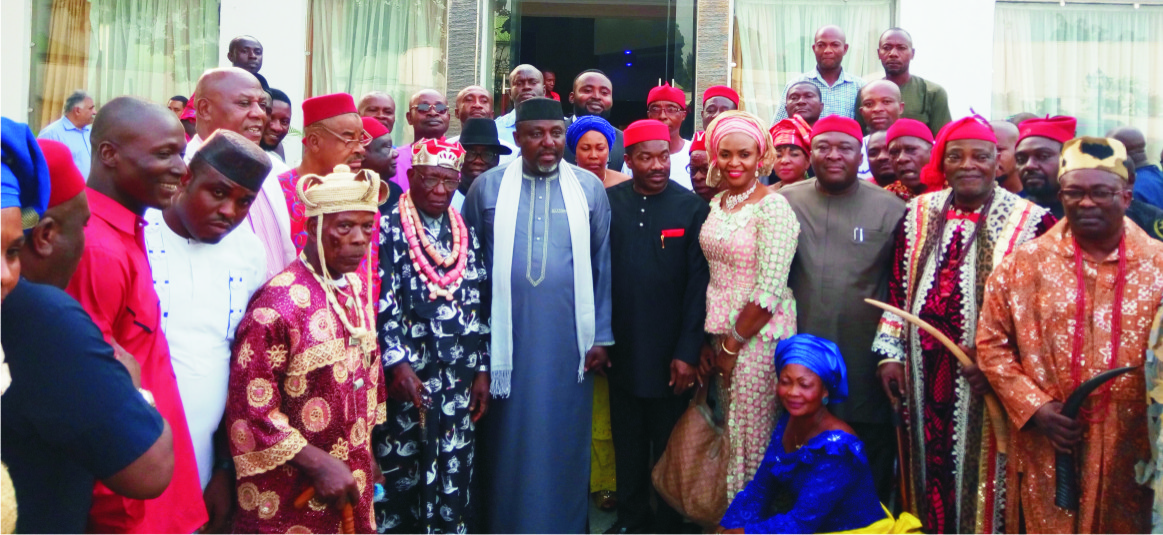 By Onyekachi Eze
If the news gathered by Trumpeta Newspaper is anything to go by, then those nursing the ambition of representing Orlu/Orsu/Oru East Federal Constituency by 2019 under the All Progressives Congress, APC, should begin to make a U-turn to other elective positions.
The reason is not farfetched as a household name in the business field, an employer of labour and philanthropist, Chief Felix Chidi Idiga may have found favour in the sight of the governor, Rochas Okorocha and his federal constituents.
Chief Felix Idiga, the CEO/MD of JAFAC Group of companies last   Sunday, February 4, 2018 was presented to governor Okorocha for acknowledgement and endorsement.
The visit to Imo State Government House was however witnessed by traditional Rulers from the Federal constituency, APC leaders and LGA Mobilizers of JAFAC group who before the governor declared absolute support to the 2019 political aspirations of JAFAC.
Earlier in their respective speeches onbehalf of their LGAs, HRM, Eze Thomas Obiefule, HRH, Eze Barr Amukamara, HRH Eze Micheal Ebi and HRH, Eze Nwele told the governor that they brought JAFAC to him for his endorsement and support, pointing out that he is the only person among other aspirants that can sustain the Rescue Mission vision and projects in the three local governments if elected into the Federal House.
The Traditional Rulers further disclosed that they wouldn't want any representative that may not uphold the same legacy that has already been laid by Owelle Okorocha's administration, which they said is the more reason they are solidly behind the choice of Chidi Idiga who they boasted have laid a solid foundation from time immemorial through his uncountable humanitarian activities that have alleviated the people's sufferings.
"Felix Idiga is our trusted son, in whom we are well pleased. He has made money. So electing him to represent the Federal Constituency come 2019 will be a continuation of the Rescue Mission Project which is predominantly people oriented" the traditional rulers asserted.
In his apt speech, the immediate past TC Chairman of Orsu LGA and Adviser to JAFAC Group while fielding questions to Journalists said that electing JAFAC for the position won't be a bad idea, adding that it would pave ways for development in the constituency. He said, "To whom the cap fits, let him wear it".
In his presentation, the National Assembly Hopeful, Chief Idiga acknowledged the privilege granted them by the Governor.
He told the governor of his intention to contest for 2019 Federal House of Reps which he stated was triggered by his zeal to ensuring an effective and sound representation for his people.
JAFAC disclosed that so far, he has empowered over 2,500 persons as an individual, hence expressed optimism that he would do more as a Federal legislator.
According to him, "By the Grace of God, I have made money for over 30 years. I am not coming out to acquire wealth, but to add more money, energy, experience and value for the good of Orlu Federal Constituency. The welfare of the Youth is paramount and I will ensure a better living for the unemployed youths. The voice of Orlu, Orsu and Oru East must be heard if given the opportunity".
Responding, Governor Okorocha haven eulogized JAFAC for his good plans for his people charged him to be in a good relationship with the people starting from the booths, Wards, LGAs to the State levels, as well as working closely with the party officials and members.
Owelle Okorocha however regretted the absence of the said constituency in the National grid, saying that it is somebody like JAFAC who knows the rudiments of leadership and connections in Abuja that can give the required sound representation, although he disclosed that already, 3 persons have notified him of same political ambition.
In addition, the governor mandated the traditional rulers to come back to him if truly they have made their final decisions of supporting JAFAC, averring that all he (Governor) want by 2019 is to see elected persons who would relent at nothing than to carry on with the exemplary leadership/ representation of the APC and continue to better the lives of Imolites.
A reliable source close to Mr Idiga also told this Newspaper that he only bowed to public pressure to contest following his antecedents that speaks volume across boards.