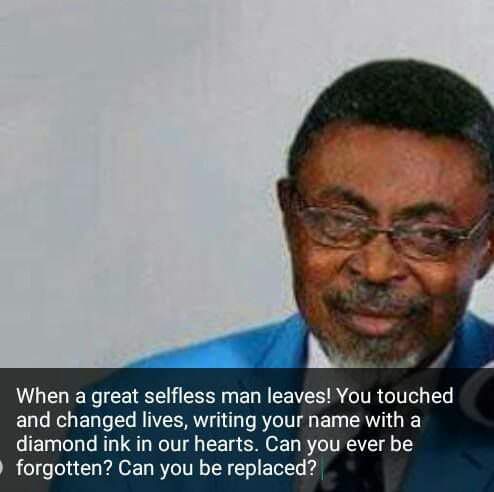 Yesterday, the news of the sudden death of Bishop Alexander Ezeugo Ekewuba, a prominent man of God and one of the renowned Pentecostal clerics became public.
Trumpeta showcase a brief background of the Bishop from Avu, in Owerri West LGA.
THE GENERAL OVERSEER:
Bishop Alexander Ezeugo Ekewuba is the founder and vision bearer of Overcomers Christian Mission Inc. He started the church with only seven members on Sunday March 3, 1985. That was in a carpenter's shed situated at No.2, Ejiaku Street, Owerri, Nigeria.
Bishop Ekewuba is one of the oldest Pentecostal preachers in Nigeria today. Born on December 7, 1945 into the popular Ekewuba family in Avu autonomous community, Owerri west Local Government Area, Imo State, Nigeria. He repented in 1965, as a college student.
His father, Harold Ekewuba, died in 1951 when he was just five. Harold was a manager with Kingsway stores, Onitsha branch. He worked closely with the late Odimegwu Ojukwu; father of former Biafran leader, Dim Ckwuemeka Odimegwu Ojukwu, before he died. Harold recorded a number of firsts in his community: first college graduate, first man to buy a car and a lorry and first to erect a storey building.
Bishop Ekewuba was brought up by his mother, Madam Bernice who was also reputed to be the first female teacher, first to own a bicycle and first nurse in Avu. She retired from the federal medical Center (FMC) Owerri. She died in January 2003.
Bishop Ekewuba is called Evangelist/Pastor. He started preaching shortly after repentance in 1965. His evangelical work took a new dimension in 1969 (during the civil war) when he boldly ministered to Nigerian soldiers who captured and occupied Owerri.
He is married to Rev. (Mrs.) Francisca Ekewuba and they have seven children –four males and three females.
MINISTERIAL CREDENTIALS:
After the war in 1970, Bishop Ekewuba spear-headed the arrival of Scripture Union (SU) Nigeria in Owerri; opened the Owerri branch of Bible Missionary Church (BMC) and co-founded two indigenous Pentecostal churches- Voice of Salvation Gospel Mission (Orogwe) and Holiness Evangelistic Church. Before the Lord called him out to start the Overcomers Christian Mission (OCM), he had founded and nurtured the Redeeming Time Pilgrim Mission for 12 years (1973-1985).
Right now, the Overcomers Christian Mission is one of the fastest growing indigenous Pentecostal churches in Nigeria with more than 85 branches all over the world.
HIS CALLING:
According to during his long time, "As Peter was sent to the Jews and Paul to the gentiles, I am an apostle to the occult world – juju or fetish priests, cultists, ritualists and other satanic agents. I received God's command to confront and convert them. However, where they remain stiff-necked in their wickedness and sin, I pray down the power of God to destroy them".
APPROACH:
Bishop once said "Like God commanded Moses in number 25:17, my approach to occult men and women is to vex and smite them. Vexing them means provoking them to anger by demonstrating the power of God and that Jesus is the only saviour of man(Acts4:12), not Satan".
VISION:
Before he died, Ekewuba said of his vision: "My vision on earth is to demolish satanic stronghold and lift up the name of Jesus Christ to all Men (2Cor. 10:4-6)"