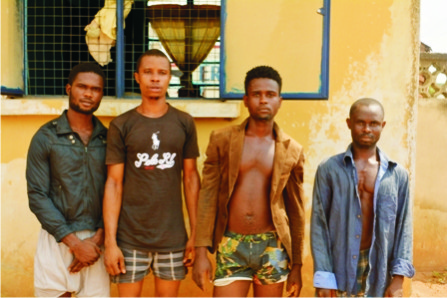 By: Tochi Onyeubi
It has become end of road for four suspects and members of a syndicate who specialize in armed robbery and kidnapping in Owerri West and who masterminded the kidnap of an Owerri based pastor, Chinenye Akuchie in his building site at Okuku, Owerri West LGA.
Addressing newsmen yesterday, the Commissioner of Police, CP Galadanchi Dasuki who informed that, the suspects were arrested by the Federal Special Anti Robbery Squad, through a tip off, named Chimuanya Akuwugwe, 22 of Umuezemuka, Umukiri Okuku Owerri West LGA and Sopuru Onyekwe, 29, of Umunamu in the Ngor Okpala LGA of Imo State, as the first two suspect.
The others, according are Chukwdi Ukaegbu, 25 , of Umukiri-Okuku in the Owerri West LGA and 35 -year-old Daniel Alam of Umukiri-Okuku in the Owerri West LGA.
The crime buster explained that the suspects had allegedly been disturbing the peace of the state. In his words, "Acting on a tip-off, operatives of the Federal SARS arrested one Chimuanya Akuwugwe of Umukiri Okuku in the Owerri West LGA of Imo State, who led the operatives to a member of their gang, Sopuruchi Onyekwe, who was also arrested.
"Subsequent arrests were made based on the confessional statements of the suspects. On July 5, one Chukwudi Ukaegbu, 25, a native of Umukiri Okuku in the Owerri West LGA and Daniel Alam were arrested.
He charged the people of the state to be vigilante and always speak out as well as aid the security outfit in their investigation, adding that the community policing as introduced by the Inspector General of Police was already yielding fruits.
He however stated that the suspects would be charged to court as soon as the police was done with the investigations.