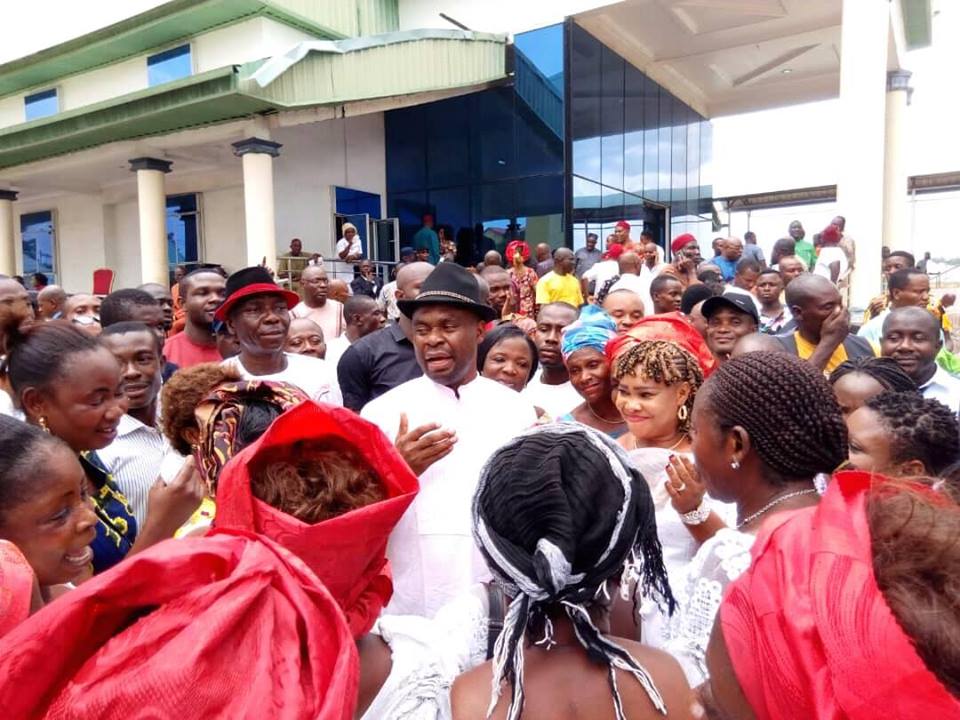 By Orji Sampson
The leadership of Federation of Oru, Ohaji/Egbema and Oguta Students (FOOOS) which is the apex student body in Oru West, Ohaji/Egbema and Oguta L.G.As have begun an outreach to the aged women in Engr. Uju Kingsley Chima's Federal Constituency with the sole motive of getting more voters support for him from the women towards his Federal House of Representatives bid. FOOOS disclosed that the, "OPERATION GET A WOMAN GET THE FAMILY FOR ENGR UJU", is from the yardstick that once you convince a woman, especially a mother towards a course, you have as well convinced the entire family adding that the outreach is for group of women who have PVC and are willing to vote Engr. Uju Kingsley Chima for House of Rep will go into their community, get an old woman who is less privileged among them, recommend her to FOOOS leadership and the association will in turn visit the old woman, provide her some relief materials on behalf of OMEUDO REALITY CAMPAIGN ORGANIZATION which is Engr Uju Kingsley Chima's 2019 Campaign Organization and also help her clean her house, wash her clothes and fetch water for her.
The association flagged off the Ohaji/Egbema L.G.A wing of the outreach on Saturday 15/9/2018 with Mama Monica Obilor of Amaukwu Mgbirichi as a beneficiary, while that of Oguta L.G.A was flagged off on Thursday 20/9/2018 with Mama Elizabeth Nwosu of Igbugankwo Orsu-Obodo as beneficiary and Oru West wing flagged off on Saturday 22/9/2018 with Mama  Nchefu Ozor in Umumbaleto Mgbidi as beneficiary.
In what could be said to be very rare among Nigeria students, the Executive and Senate arms of the association contributed some money within themselves to carry out this task without the knowledge of Engr. Uju Kingsley Chima. According to them, in civilized worlds, when a political aspirant is more qualified than others, the masses contribute money and otherwise to sail him through instead of becoming a liability to him, hence FOOOS choice of becoming an asset to Engr. Uju.
Mgbirichi, Orsu Obodo and Umumbaleto communities of Oru West, Ohaji/Egbema and Oguta L.G.As were thrown into a joyous atmosphere with the presence of the student leaders who decided to put a smile on the faces of old Mama Monica Obilor, Mama Elizabeth Nwosu and Mama Nchefu Ozor with every other woman concurring in totality to vote Engr Uju whom according to them they have heard so much about for Federal House of Representatives come 2019.
Some of the relief materials which the association presented to each of the old women on behalf of OMEUDO 2019 REALITY CAMPAIGN ORGANIZATION are:
Small Bag of Rice
Wrappers
Beverages (Tin Milk, Burnvita & Lipton)
Packs of Bathing Soap
Detergent
Half Dozzen of Tissue Paper
Bucket
Packer
Broom
Wine
Uju Customized Shopping Bag, etc.
The younger women who recommended the old women to the association (FOOOS) were also given an Uju Customized Shopping Bag each.
The students also helped the old women at each visit to wash their clothes, clean up their house and fetch water for them and in some cases help them clear their surroundings. They promised them to be coming back to check on them on behalf of OMEUDO REALITY CAMPAIGN ORGANIZATION. They also told the other women who are Engr Uju's voters' apologists to remain steadfast, optimistic and not  allow political deceivers to near them while pledging to carry them along in any expanded political outing of Engr Uju Kingsley Chima.
At each visit which were made at the old women's compound, the family members presented kola to the student leaders as a sign of welcoming them and Engr. Uju Kingsley Chima entire Campaign Team into their family and community at large.
The old women in their responses at each visit always raised the broom, which is APC's logo up and prayed for the emergence of Engr. Uju Kingsley at the general election polls, while saying that God has swept off anything that will be of obstacle to his victory with the broom. They said that both them and the other women who recommended them to FOOOS shall not only vote Engr. Uju for House of Rep, but sit there till he is announced winner at their various polling units.
According to FOOOS, they have decided to go beyond ordinarily endorsing Engr Uju Kingsley or voting for him but getting as many voters as possible to enable him clinch to unchallenged victory come 2019 in his Federal House of Representatives ambition in Oru West, Ohaji/Egbema and Oguta Federal Constituency like Deacon Chike Okafor did in his own constituency in 2015. The student leaders said they needn't wait till after Engr Uju's Party primaries before unveiling their plans for him because they already see him as a Victor.
They finally called on lovers of Omeudo who would want to contribute to this life changing outreach to always feel free to sponsor or associate with them saying they chose to reach out to the downtrodden aged women as a campaign style for Engr Uju Kingsley because he is one who loves putting smile on the faces of poor people around him and doing everything to eradicate such poverty, making them happy forever, so putting a smile on the faces of our old mothers is inline with the Master's way of life.
The President of the association, a student of Imo Poly, Comr. Ogbonna Oliver Chigozie who spoke on behalf of his Executives said they have a total faith in God that Engr Uju Kingsley will finally emerge victorious and become the House of Representatives Member of Oru West, Ohaji/Egbema and Oguta come 2019 and they have decided to back up their faith with work, so their optimism is very high. The Senate President, Sen. Onyejekwe Solomon who doubles as the IMSU President of Oru Students Association of Nigeria (OSAN) spoke on behalf of FOOOS Senate Arm which are the various Chapter Presidents of Oru, Ohaji/Egbema and Oguta L.G.As in all tertiary institutions in Imo state. He hinted that politics is local, hence they have decided to take the Gospel of Engr. Uju Kingsley Chima to villages with utmost believe that he will never disappoint them. Senator Oscar Olorko who also doubles as the Senate Spokesperson and Ohaji/Egbema students President of Imo Poly said that FOOOS adopted Engr Uju because after their assessment, he emerged more qualified than all his contemporaries and only him reckons with the students among all of them.