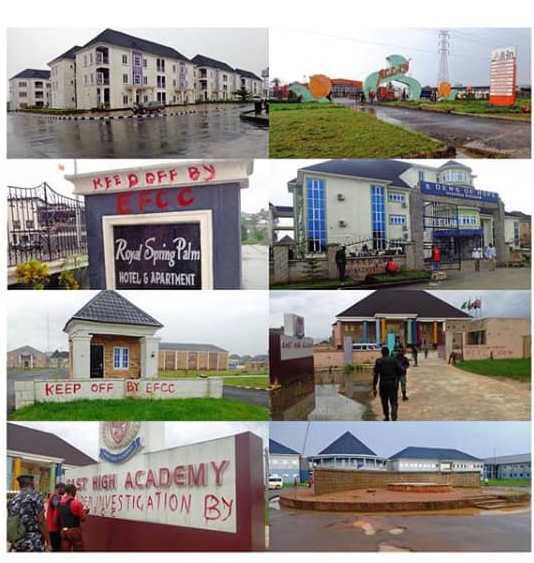 The dreaded crime-fighting organization, the Economic and Financial Crimes Commission EFCC, is said to have directed its gaze on the Governorship candidate of Action Alliance, AA, in the 2019 Imo Governorship election, Chief Uche Nwosu.
Sources said that EFCC, after nailing Uche Nwosu's father Inlaw, and former Governor of Imo State, Senator Rochas Okorocha, his mother inlaw, and wife over alleged sleaze has now directed its gaze on Uche Nwosu, Okorocha's son inlaw.
Trumpeta learnt from EFCC sources that Uche Nwosu is the next to face EFCC's scrutiny following heaps of petitions against the youthful Governorship candidate, whom many swore is swimming in riches, just after Eight years he was pounding the streets of Owerri searching for elusive jobs.
This Newspaper was told that EFCC is beaming its light on a particular Hotel called Westbrook Hotel and a gigantic farm, Ezihe Farm said to belong to Nwosu who is said to have suddenly became stupendously rich after marrying Okorocha's first daughter.
Just this week, EFCC ordered Okorocha, his wife and daughter to forfeit some landed property in the State linked to them, allegedly to have been funded with public fund.
Close source to EFCC told this Newspaper that the organization is still investigating the legions of petitions against Nwosu in their office, adding that it is after the investigations that the Body would know whether to nab the Guber candidate or not.
However, the popular demand is that Nwosu be investigated thoroughly as his sudden wealth even baffled his close pals, who are among the petitioners to EFCC.
A Group of Imo people who spoke to Trumpeta said that the only remedy to a riot in Imo akin to the legendary.
"Otokoto Riot" is for Okorocha and his family to quietly relinquish some of the wealth the creamed from Imo State and its citizens.
"It is better EFCC advise Okorocha and his inlaw, Uche Nwosu to bring back at least some of the money they took away from Imo State if they don't want and riot in Imo State. Emeka Ihedioha is handling them with kid gloves" the crowd chorused. However, a source from Uche Nwosu said that he is not under investigation and fears no arrest.