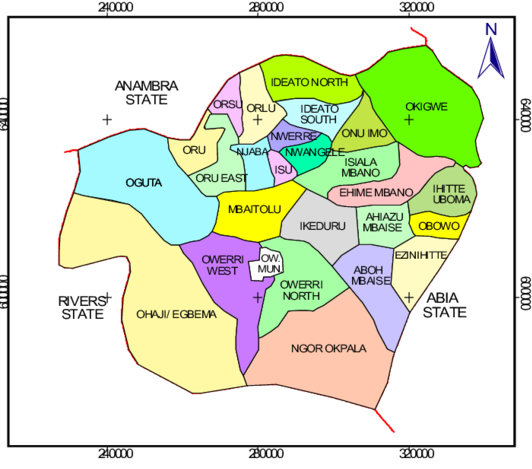 Even though the Imo State Independent Electoral Commission ISIEC is yet to determine if and when the Local Government Elections will hold in Imo State, Owerri North Local Government Area is said to have already been torn into shreds following political war raging among the political  Big wigs and Groups in the council area.
According to Information available to Trumpeta, the issue of which Block produces the next elected chairman of the council is the major problem tearing the LGA apart.
Trumpeta's investigations unveiled that the war over the next chairman of Owerri North LGA is not a party affairs, but Group battles among the four political Blocks that make up Owerri North LGA.
Sources told Trumpeta that since 1999, Owerri North has a way of zoning its elective positions, namely House of Assembly and chairmanship among the Blocks to avoid chaos and mayhem.
Trumpeta was told that Owerri North has four political Blocks namely Uratta; which comprises of Uratta/Orji/Amakohia/Akwakuma,Alaenyi; made up of Egbu/Ihittee Ogada/Naze/Awaka, OAU Obibiezena comprising of Obube/Agbala/Ulakwo and Obibiezena and Emii/Emekuku, comprising of both communities.
Trumpeta was told that the positions since 1999 has been going round the blocks.
In 1999 Uratta Block produced the LGA chairman in Hon Charles Onyeagbako while Emii/Emekuku produced Late Hon Ken Obichere for the House of Assembly.
After that OAU Obibiezena produced the Council Chairman, Late Nze Oparachekwe, while Alaenyi brought Rt Hon Nnaemeka Maduagwu as House of Assembly member.
After that Alaenyi brought Dr Ogwo as the Council Chairman, while Uratta block produced Nze Ray Emeana as the House of Assembly member.
For eight years, the regime of Governor Owelle Rochas Okorocha could not conduct council elections, but Hon Dan Ikpeazu from OAU Obibiezena became the House of Assembly member, for four years while Hon Uche Lloyd from Alaenyi succeeded him.
Now, in the present regime, Hon Philip Ejiogu from Emii/Emekuku block has emerged the member of House of Assembly and the Emeka Ihedioha era has vowed to conduct council election between now and next year.
Therefore, this has exhumed the agigation for the Blocks in Owerri North to lay claims to the position of Executive Chairman which is presently occupied by OAU Obibiezena on Transition Committee bases.
However, the trouble now is that Emii which has not tested the office of the chairman is baying for blood, saying is their turn on there will be trouble.
But Trumpeta was told that Orji community is also saying it is their turn too to provide the chairman of the council.
Sources said that some Top politicians are backing a certain Aspirant from Orji which they are alleged to say "No Going Back".
And Emii clan is insisting that it is their turn based on zoning formula, even though Philip Ejiogu in the House of Assembly is from Emii/Emekuku Block.
Those against Orji producing council chairman are saying that the community cannot produce both the council chairman and Senator at the same time, since Chief Ezenwa Onyewuchi, the Senator representing Owerri people is from the Ward.
Under this scenario now, Owerri North politicians, devoid of political leanings are said to be fighting from different camps now which may spell doom for Owerri North's political cohesion.
However, Trumpeta was told that the bane of the sociopolitical growths of Owerri North is the imposition of candidates during elections without allowing the people make input through transparent choices.
A source told Trumpeta that the same situation about to play out now was what led PDP to lose the 2015 House of Assembly to APGA.
"That was why Kemakolam lost to Lloyd in 2015. The same thing will repeat itself now because any party that chooses a candidate for Owerri North council election from Emii  is bound to spring surprises. Owerri North people are more enlightened now and cannot be led by the Nose" Trumpeta was told.