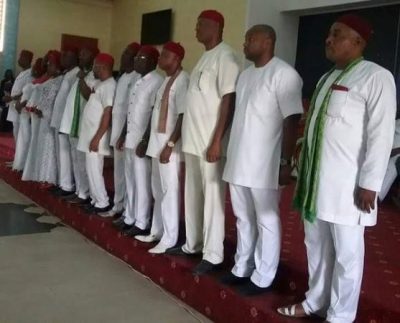 Six months after the administration of Owelle Rochas Okorocha exited from office, the traditional muffler he introduced in Imo State which are worn by him and followers have gradually faded.
Trumpeta recalls that the habit of wearing muffler by government appointees and associates became prominent during the eight years regime of Rochas Okorocha.
But since he exited from office and went to Abuja as Senator Representing Orlu zone in the National Assembly, the mufflers are no longer prominent in office.
A check by our correspondents noticed that former appointees of the immediate past era who acted as commissioners, SAS and council chairmen who hitherto made the muffler a regular routine has stopped and likely thrown it away.
This newspaper spotted some former appointees in recent times and discovered they no longer adorn the mufflers which come in various forms to social functions.
People of the state also noticed that majority of the former appointees have distanced themselves from the vestiges of the Okorocha administration as no one goes about with the muffler again.