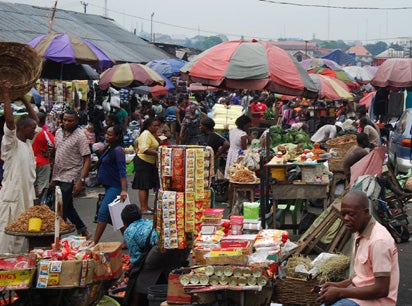 By Onyekachi Eze
Except the Imo State Government steps in to quell expected uprising in markets in the state, one of the notable one in the state capital, Relief Market is sitting pretty on a keg of gunpowder as
Traders of the Relief Market Plaza Owerri, have vehemently resisted plots by suspected persons in the name of Owerri Municipal workers to impose a caretaker committee on them.
Business operation within the plaza was brought to an abrupt halt on the early hours of Tuesday, following an alleged leadership imposition on the market men and women.
Trumpeta Newspaper reliably gathered that some individuals, suspected to be igniting the leadership crises besieged the plaza yesterday, in what was termed a 'work over' against the wish of the traders.
Problem erupted when the former caretaker chairman, Pastor Ben Chimezie was alleged to have approached the interim chairman, Dr Emma Agoh and few of the traders in company of one Clinton Amadi who claimed to be an APC member working for the government of Imo State.
Their presence however raised eyebrow to the occupants of the Relief market plaza who now resisted all effort by Chimezie and Amadi led delegation from holding a clandestine meeting.
Angered by this development, the traders who were spotted with placards of different inscriptions like; 'we want a proper election in the plaza',  'the plaza want an election come February 28/2020', 'Pastor Ben Chimezie and his touts are disturbing the peace of the plaza', among others.
Speaking shortly after the exercise, the present caretaker Chairman of Relief Market Plaza, Dr. Emma Agoh disclosed that they don't have any crisis in the plaza except an orchestrated imposition by some elements.
According to Agoh, 'the market people insists on a credible election so that duly elected officials can comfortably work together for the good and development of the people'.
Speaking further, he opined that immediately an agreed date of election was fixed for February 28, 2020, they keep on seeing different faces, as led by his predecessor, Ben Chimezie.
Dr. Agoh pointed out that not only that he (Chimezie) was appointed by the people, but same people have vehemently rejected same leadership. He queried why someone who addressed himself as a pastor could be power monger.
Hence, he prayed that the government of Senator Hope Uzodinma should come to their aide in ensuring that they have a free and fair elections, as clamoured by the plaza.
Commenting, the pioneer chairman of the plaza, Mr. Hyacinth Ejiogu said that since they entered into the place, there have not been any election.
He revealed that they are tired operating with appointed caretaker, and that what they truly need now is people who would be elected to serve for the period of 3 years, using Ariara Aba and Onitsha main market as a study.
Lending his voice, an elder, Sir. E. U. Ekezie said, "we can't continue in having more caretaker chairman. What we want is a conducive election".
He called on the government to help in the actualization of the goal.
Speaking on behalf of the women, Miss. Chinasa Onuoha and Mrs. Ugochukwu Ngozi, respectively, recalled on how they beckoned on the said Ben Chimezie to be their caretaker chairman when they parked in newly, stressing that after a thorough scrutiny, he lost their trust.
The women therefore expressed readiness in the upcoming elections, warning that any more distractions by anybody or group of persons would be strictly resisted, adding that since they are in a democratic setting, they should all play by the rules of democracy which credible election and people's opinion is part of.