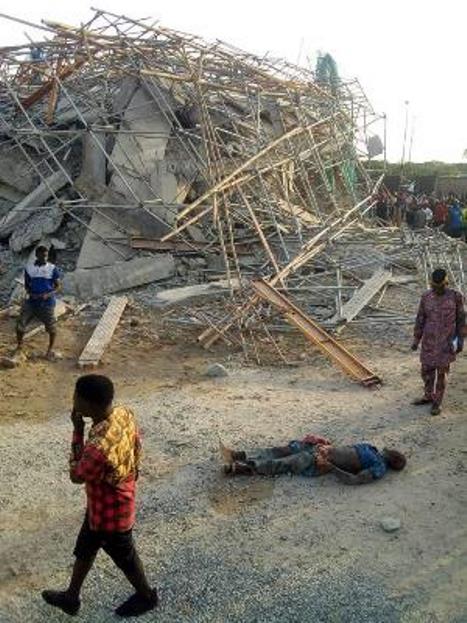 By Peter Uzoma.
In what appeared to be a surprised approach to rescue victims suspected to have been trapped underneath the collapsed building, rescue work has stopped.
For more than three weeks, the story of the fallen eight-storey building has rented the air from all available media cylinders.
Trumpeta can authoritatively confirm that the site of the fallen eight-storey building has finally been sealed off thus stopping any type of work there.
Trumpeta roving lens which has been keeping tabs on trends within the area discovered that little or no effort was seriously put in to rescue those trapped in the debris because almost all machines deployed for excavation and evacuation assignments broke down after few hours of operation. The things in working condition were two White ambulance buses.
Before the final sealing off of the area about four heavy duty machines which littered the environment were not functional. However, the site became a business centre for "scrap vendors"
Some inhabitants of the area who spoke to this reporter on conditions of anonymity keep asking what becomes of those suspected to be still trapped. Some asked if that place has been turned to their graveyard?
A youngman who introduced himself as Emeka, who was seen around the area Monday this week, and  managed to answer some questions though amidst tears, said, " I work there as a mechanic, on that fateful day I came to work and was told by Oga to go to Alaba and buy some spare parts. I went quickly but was surprised to see what happened on return."
Emeka said he used his phone to reach out to a mate, Ifeanyi on that day who was trapped. He said Ifeanyi answered but managed to stammer severally "please help, no air here". According to him, he is sure Ifeanyi is still trapped since he has heard nothing about him then, not even the parents know where he is
What many concerned citizens are now asking is if this sealing off is all the state government can offer. They appealed that something be done to deliver the dead bodies to their owners for proper burial.