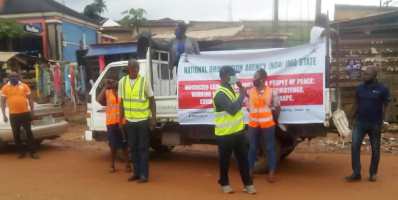 In her continued bid to raise awareness on social issues, the National Orientation Agency, Imo state have taken its campaign to Okigwe area of Imo state.
The campaign which bordered on covid 19 prevention, dangers of rape and peaceful co- existence as the world continue to battle the pandemic was done through a motorised campaign across areas in Okigwe.
The programme tagged, " Motorised Campaign on Building a People Of Peace; working together for peaceful co-existence, covid 19 prevention and fighting rape is expected to take place across the three geopolitical zones of the state.
Recall that, the sensitization which started with Owerri zone and subsequently Okigwe, is also expected to take place in the Orlu zone.
Moving round Okigwe on periodic stopovers, the team harped on the need to maintain social distancing, wearing of face masks, continuous and consistent hand washing routine or using of alcohol based hand sanitizers as preventive measures stipulated by the NCDC.
Speaking on peace and peaceful co- existence, they appealed to everyone to maintain peace, tolerance and freedom, adding that development and prosperity thrives when there is peace.
Condemning the widespread rape cases, the team announced that anyone found guilty of the act or any act relating to gender based violence will face the full wrath of the law, irrespective of class, gender or status.
Speaking in an interview shortly after the campaign the Deputy Director, NOA, Imo state, Mr Nazzy Njoku said there was need to still draw the consciousness of people to he fact that corona virus is real and also for them to still maintain the stipulated regulations.
" We are asking them to stay safe and do all the necessary procedures the government told them to do in order to be safe especially in the use of face masks and regular hand washing", he said.
He maintained that, the Federal government is all within their power to curb the scourge of rape, adding that there is a law against rape and vulnerable persons especially against the female folks and also stiffer punishment attached for those who commits such crime.