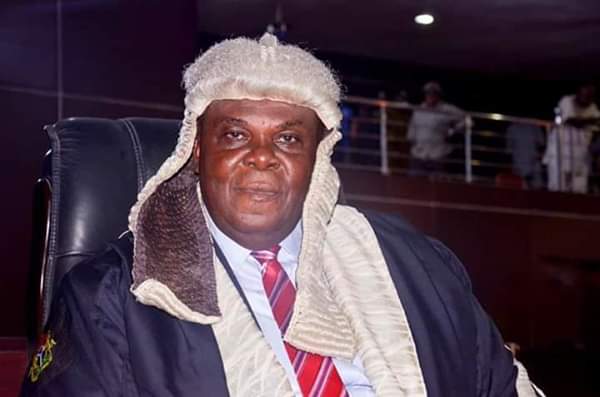 For the former Speaker of Imo State House of Assembly, Rt Hon Chiji Collins, it is not only raining, but pouring.
Chiji Collins lost his coveted seat after Eighteen, out of the Twenty Seven members of Imo House of Assembly voted for his sack from office.
The incident took place on Friday, November 13, 2020. It marked the fall of Collins Chiji, who had traversed through political parties just for the purpose of maintaining his plum job, thereby making a jest of political ideology as the grain of politics and representation.
However, not many people sympathized with Chiji Collins, as political Soothsayers had foreseen that if Collins Chiji did not change his political style, he would end up tumbling from Grace to Grass.
Prior to being booted out, the former Speaker had his tenure dogged with various allegations, including alleged certificate cloning.
Before Chiji Collins appeared on the Imo political horrizone as the Speaker of the Imo Legislature, he was just like any other politician trying to make it.
He was a member of the All Progressive Congress APC from Isiala Mbano State Constituency, where he contested election in 2015, narrowly lost to Mrs Joy Mbawuike of PDP, but the result was withheld for a rerun.
Luckily for Chiji Collins of APC, Senator Ifeanyi Araraume, who lost the PDP Governorship primaries to Rt Hon Emeka Ihedioha, out of anger, jettisoned PDP and pitched tent with Governor Rochas Okorocha for the Imo 2015 Governorship re-run election, which Okorocha later won.
Therefore, when the Isiala Mbano Constituency re-run election came up, Araraume literally adopted the APC candidate, Chiji Collins, and he was stream rolled into Imo House of Assembly "just like that" according to FELA.
Chiji Collins was in the House as APC member until 2019, when Senator Araraume moved to All Progressive Grand Alliance APGA, to execute the 2019 Imo Governorship. Chiji had no option but to join his mentor and principal in APGA.
As APGA and Araraume cleared Okigwe Zone in the election, Chiji Collins also benefited in the victory of Okigwe Zone, facilitated by Araraume.
However, when Rt Hon Emeka Ihedioha won the Governorship, Chiji Collins was among the first legislators of APGA and APC extractions that joined PDP and the Ihedioha regime.
Meanwhile, because of Imo political zoning and power balancing, with the Governorship in Owerri zone, and the Deputy Governor from Orlu zone, the Speakership position went to Okigwe Zone.
Therefore, following lobbying and ranking, Chiji Collins, who was a second time member of Imo House of Assembly became the Speaker of the House under the Emeka Ihedioha Governorship.
Chiji had to dump his mentor, Araraume and party, APGA, for the allure of Power.
When Ihedioha was removed from office, Chiji Collins, without blinking an eye, jumped over to APC to retain his Seat as the Speaker.
Having exposed himself as having more loyalty to his position, than ideology and representation, Speaker Chiji Collins literally became an Aide of Governor Hope Uzodinma, instead of acting like a Head of the Legislative arm of Government.
To protect his position, Chiji Collins became a rubber stamp and robot, doing whatever the Executive arm ordered him to do, rather than being a Check on the Governor and the Executive.
Thinking that his seat was secure as long as he remains deaf, dump and blind to issues regarding the State, and even the constituency he was representing in the House of Assembly, the former Speaker was taken unaware last Friday, when the rug was pulled off his feet unexpectedly.
Therefore, today, the name of Rt Hon Chiji Collins has entered the list of past Speakers of Imo House of Assembly.
Why he enjoys that honour and luck,  Chiji also should be grateful to God because he personally  has done  good for himself.
However, what remains a challenge before Chiji Collins is how to face the people of Isiala Mbano State Constituency, whose fortunes have not improved under their son, who was the number third citizen of the State.
Indications are that even family members are rejoicing over the impeachment of the Speaker, as they swore that they benefited nothing from his tenure as the number three citizens of Imo State.
As Chiji Collins returns to the chamber as just like any other lawmaker, he should count his blessings, as God has tried for him, but man in his treacherous nature dealt with him and his ambition, cutting his jumping from one party to the other just for Speakership position. Nothing lasts forever.