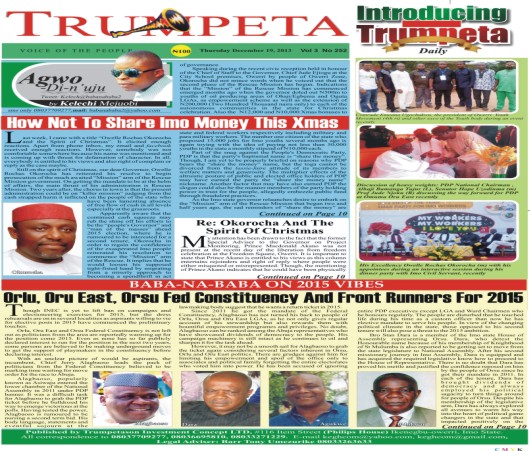 Owerri Traffic Lights And Awareness Campaign
Every point of traffic control in Owerri, the Imo State capital, now has Traffic Lights. One must commend the Hope Uzodinma government for the gesture.
Having observed the smooth movement and traffic control at the congested Orlu/Warehouse Road, it is obvious the State government means well for the people. But awareness campaign must be raised in public fora for motorists to observe the rules. Many vehicle users flout the signs and in most cases it leads to near accident cases.
No JSS 3 Exams In Imo Again?
Schools have vacated for the third term in Imo State except for few who would dismiss this weekend. However, it has been observed that Junior Secondary School class 3 students in Imo State are yet to have the mandatory examination for promotion. This is coming after parents/guardians have registered their children/ wards for the exercise through payment of fees. It was even learnt that those who took the examination last year are yet to get their results released. Parents of JSS3 students graduating to SS1 are worried how their wards would move to the next class without JSS3 certificate.
Over to Education Ministry for answer.
Owerri –Aba Road Needs Rescue
Sigh of relief was the mood of road users who regularly ply the busy Owerri-Aba road when the Hope Uzodinma government started work on the Owerri- Aba road beginning from Whetheral road roundabout to Poly junction, Naze last year. But after the job was completed this year, flood takes over part of the Otamiri River Bridge whenever it rains forcing motorists to go on one- way road and experience hiccups on the road. Furthermore, the other part of the road is growing bad irrespective of the fact that it has not been a year, the road was reconstructed. Government should force the contractors back to site for correction and maintenance