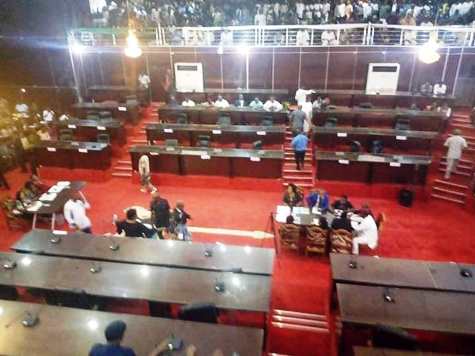 By Onyekachi Eze
In preparations to the inauguration of the 10th Imo State House of Assembly, the twenty-seven members-elect have embarked on a 5-day retreat.
Following the completion of the 2023 Presidential, National and House of Assembly elections across the 36 States of the federation, all the elected persons have gone into retreat to get acquainted with the job they are elected to do.
In Imo State, the twenty-six APC Lawmakers-elect and one Accord Party member-elect making it twenty-seven are currently in Uyo, Akwa-Ibom State to observe the process.
They left Owerri to Uyo on Wednesday May 24, 2023 and will return on Sunday May 28, 2023.
Information further obtained by Trumpeta correspondent has it that the opening event which holds today, Thursday May 25, 2023 will be graced by the Imo State Governor,  Senator Hope Uzodinma, followed by a technical session.
While the Clerk of the House, Chinelo Adaora Emeghara Esq. would take the welcome remark, the Speaker, Rt Hon Emeka Nduka is said to be getting set to observe the goodwill remarks followed by a keynote address on a theme, "Building effective Executive-Legislative Partnership.
It was further gathered that the Pre-inauguration retreat for members-elect of Imo State House of Assembly is aimed at equipping the incoming Lawmakers on the tenets, ethics and duties of a Legislator.
Aside the returning members who are in their second and third missionary journey respectively, the first timers would be taken on an academic exercise and other legislative principles.
The retreat exercise provides the opportunity for the lawmakers to;
 Acquaint themselves with their mandate, Educating them on legislative (parliamentary) processes, Teaching them, especially the incoming lawmakers, the legislative tools that will give them a head-start in providing legislative responsibility to their constituents.
Members-elect, especially the Incoming House Members are taken through Rules and Procedures of Parliamentary business, vis-a-vis,
How to sponsor Bills, How to sponsor Motions, How to present Petitions.
 Budgeting processes (Appropriation), Oversight, Conflict Resolution in Communities.
Working independently as an Arm of Government, but collaboratively with other Arms to provide services to the electorate.