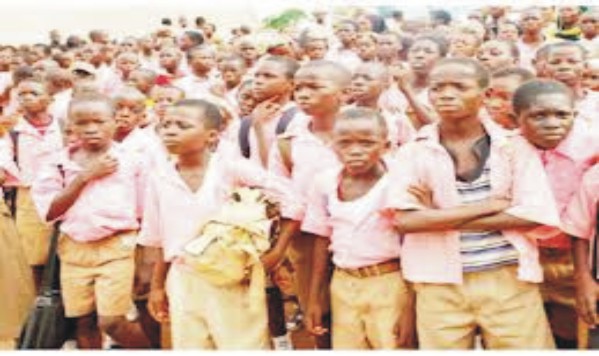 By Okey Alozie
The Government of Imo State led by Distinguished Senator Hope Uzodinma has always checked the activities of Imo Workers especially those working at Secondary Education Management Board (SEMB), as well as probe the allegations of certificate forgery mutilation of files, extortion of money, harassment of workers with transfer threats, illegal service extension of some Head of Schools and other alleged misconducts.
Information revealed that there is serious crisis at the Secondary Education Management Board (SEMB) which may eventually lead to the sack of the officials.
It was alleged that some of the Management Staff and Principals falsified their Birth Certificates and First School Leaving Certificate of Education (FSLCE) in order to stay longer in their various offices.
In addition, many Principals that retired have refused to go, coupled with alleged mutilation of files which is subject to investigation.
It was reported that N3.000 was paid by each Principal for the collection of promotion letters.
 When contacted, the ANCOPSS chairman in Imo State, Mr Ferdinand Duru debunked the allegation stating that Principals were not forced to pay any money rather, the Principals on their own agreed to give support to SEMB for the printing of promotion letters.
"Many voluntarily gave N3,000 while others on their own brought office materials" he submitted.
Our source disclosed further that there were other allegations yet to be disclosed for public consumption
Against this backdrop as we gathered, the authorities then declared operation show your birth certificate and other qualifications.
When contacted, the New SEMB Boss, Mrs Augustina Azubuike explained that there was no cause for alarm, adding that those to be promoted to level 16 are usually requested to produce additional qualifications and FSLCE.
She disclosed that promotion of those with National Certificate of Education (NCE) stops at level 14 and any staff who did not bring additional qualification will not be promoted to another level.
On the issue of payment of N3,000, the SEMB Boss submitted that she never asked anybody to pay her money "it was ANCOPSS that decided on their own to help out" she hinted.
 We also gathered from a reliable source that the Principals that got retired recently will leave office completely the moment they conclude the ongoing Examinations in their various schools.