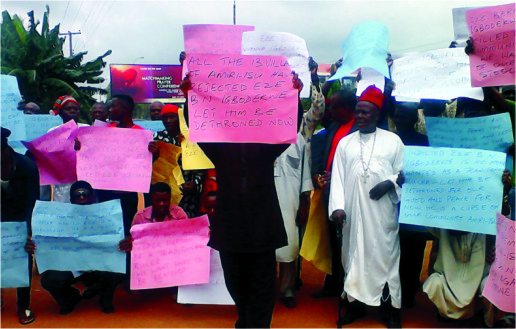 By onyekachi eze
The monarch of Amiri-Isu Autonomous Community, in Oru East Local Government Area, Imo State, HRH Eze Barr Benard Nnanna Igbodekwe (Gedegwum) is said to be facing the sledge harmer of the populated community, necessitated by the petition leveled against him in numerous court cases of his recent activities since his oath of office in 2003.
It was disclosed that on the hearing of the application for review of panel by some indicted Traditional Rulers, 2014 order 2 Rule 3, with suit no RPIR/OW/16/2014 under the jurisdiction of Hon. Justice Abosi, which Eze Benard Igbodekwe is involved, the to the traditional ruler, Naths Epelle Esq urged the Review Panel to discountenance the preliminary objection raised by counsel to Amiri-Isu leaders in the person of S.O. Okwuchukwu, and to overturn the indictment of his client by the commission of Enquiry into Autonomous Communities.
However, the counsel to Amiri-Isu Community, S.O. Okwuchukwu on the hearing of 1st September, 2014 at the appeal customary court, Owerri debunked that the application for review filed by Eze Benard Nnanna Igbodekwe was not properly filed and that the rules were not properly followed. Similarly, he argued that the Eze did not obtain a legal written permission from the governor to change any section or amend the constitution of his autonomous community as required by section 27 sub-sections 1-2 of law No. 6 of 2006 and urged the review panel on the traditional rulers to throw out the Eze's application and uphold the verdict of the Justice Chikeka Commission of Enquiry that indicted Eze Igbodekwe.
Meanwhile, the presiding judge of the Review Panel, Hon Justice F.C Abosi adjourned the matter for report after telling the Applicant's counsel that he was expecting a motion of the ruling of the commission which averred that the Eze was indicted by the commission for gross misconduct proved by his community.
Expressing their grievances to Trumpeta, the President General of Amiri-Isu Autonomous Community, Hon Chief Alhaji Ntoouba Ubawike confirmed that what drove over 80% of the community indigenes to the Appeal court was a serious matter, especially when it is in connection with false rule, tyranny and rape of culture, stressing that their Eze has no regard for law, customs and traditions of their community which he is supposed to guard with all zest.
Also in their separate speeches, Chief Livinus U. Agupuruonye, Mr Athanasius Okorougo Ejimmadu, Chief Godwin Uzowuru who happens to be the community spokesman decried the rate at which their traditional ruler turned everything upside down, stating that Amiri-Isu in the past years used to be an envy of other communities.