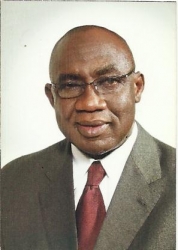 The former Secretary to the Imo State Government SGI, who has interest in becoming the next governor of Imo State, Chief Jude Ejiogu, has disclosed that he has not endorsed anyone than himself.
There were unconfirmed reports making the rounds, especially in the social media alleging Ejiogu's support to another person.
In a personal statement Ejiogu made public, the banker turned politician said "I woke up this morning to a very disturbing development.
I woke up this morning to a very disturbing development making the rounds online. It is unfortunate that some young men in an effort to seek cheap publicity or extract undeserved favours from politicians will resort to the level of spreading all manner of falsehood against other law abiding citizens of the State. It is very discomforting to see a friendly gesture or comment being twisted for cheap political purposes and this trend should be frowned at by all and sundry both those who are not affected today and those who are benefiting from such lies today. I love my dear state and desire the best for it and for that, in 2019, I will lead our people to that Promised Land envisaged by our founding fathers. I have never endorsed anybody for any positions but myself. I know what I have in my heart for my people and I know God is in full endorsement of it and as such, there is no going back. We must move Imo State forward. I don't believe that propaganda and spreading unfounded lies are ways we can move Imo State forward and urge those who are into such habit and those who sponsor such to forthwith desist from it. Besides, spreading lies against me only helps bring my name to the people when your lies are exposed for what it is. I have no problems with anybody. I fight no one. I see every son and daughter of Imo State as members of one big family which working together we can make it a happy family. Spreading lies against one another isn't the traits of good leadership rather depicts desperation and insecurity. I urge everyone to be properly guided. Thank you and God bless you".
Reacting to the said planned mock primaries, one of the APC governorship hopefuls, Sir Jude Ejiogu, averred to boycott such exercise which according to him, offends the party's constitution as it concerns party primaries.
Sir Ejiogu wondered why the APC in Imo should adopt an arbitral method of a mock primaries as endorsement mechanism.
Ejiogu contended that the party would be breaching its constitution by fixing mock primaries as a measure of endorsement.
He has therefore directed his supporters not to participate in any mock primaries but wait for the real party primaries where they could vote for any aspirant of their choice.
According to him, mock primaries can never be a legitimate   exercise of endorsing candidate as it grossly offends the APC constitution.