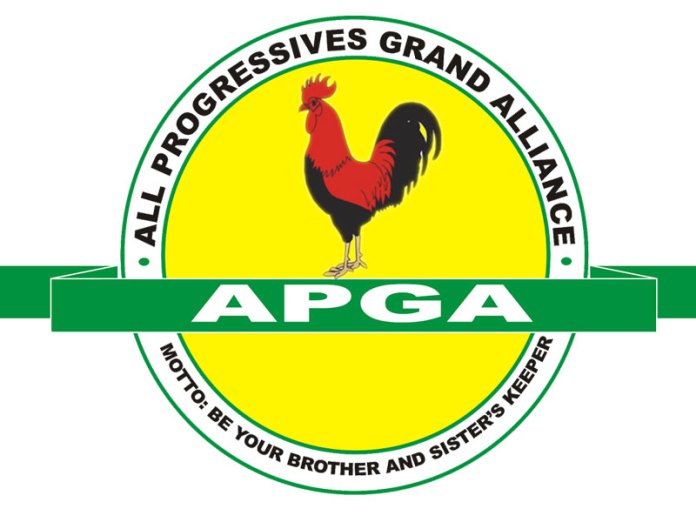 At the last count, over twenty Aspirants have indicated interest to run for Imo Governorship seat in 2019 under the platform of the All Progressive Grand Alliance APGA.
Information available to Trumpeta indicate that APGA has turned to a beautiful bride for Governorship Aspirants, especially those from Owerri zone, who believe that APGA has agreed in principle to file a candidate from Owerri zone in 2019.
Although the Aspirants are majorly from Owerri zone, but Mbaise nation dominates the number of aspirants jostling to use APGA platform to actualize their Guber dreams in 2019.
At least for now, those who have made the intention known to run under APGA include, Hon Uche Onyeagocha, Bar Steve Nwoga, Chief Okey Eze, Daniel Kanu, Captain David Mbamala, Dr Obi Njoku, Bar Charles Onyeagbako, Chief Nick Oparandudu, Mr Frank Nneji, Bar Humphrey Anumudu, Sen. Bright Nwanne, Bar Phillip Ibekwe, Dr Sam Amadi and others.
However, the open ambition of the mentioned Aspirants has raised the stake for APGA Guber ticket, and has led to a legion of people joining the party, as their numerous principals have told them that APGA is the party to beat in 2019 Imo Governorship race.
Apart from APGA, other opposition political parties like the All Progressive Congress APC and Peoples Democratic Party, PDP are having a dearth of Aspirants, compared to APGA.
Pundits told Trumpeta that for now, many Aspirants see APGA as the only party where anybody could clinch the Guber ticket unlike PDP and APC where they say some political heavy weights have kidnapped and hijacked the party structures.
Meanwhile, looking at the APGA Governorship Aspirants, they are mostly of Owerri zone extraction, said to be the zone to produce the next Imo Governor in 2019.
But a close look at the Aspirants indicate that they are most from Mbaise Nation.
They include Chief Okey Eze, Barr Steve Nwoga, Bar Phillip Ibekwe all from Ahiazu Mbaise LGA. Senator Nwanne is from Ezinihitte Mbaise, while Mr Frank Nneji is from Aboh Mbaise.
Dr Sam Amadi is from Ngor Okpala LGA. Onyeagbako and Oparandudu are from Owerri North LGA, Dr Obi Njoku, David Mbamara are from Ikeduru LGA, while Humphrey Anumudu is from Mbaitoli LGA and Onyeogocha from Owerri West LGA. Daniel Kanu is from Ideato North LGA in Orlu zone.
Imo APGA is yet to record an Aspirant from Okigwe zone. Meanwhile, indications are that soon Okigwe zone will produce Aspirants in APGA.
There are rumours that the immediate past Governor of Imo State, Chief Ikedi Ohakim will soon join the APGA Guber train, but he is only watching the situation from the PDP where he still remains a registered member.
But for now, APGA remains the major platform for Owerri zone, who has sworn to capture power in Imo State, after being spectators in the last sixteen years.