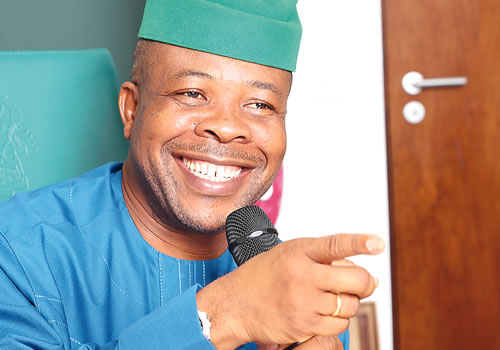 One of the contenders for the ticket of Peoples Democratic Party, PDP, in Imo State for 2019 Governorship election,Rt Hon Emeka Ihedioha has said that he has learnt from his past mistakes, as he asked those offended to realize that he is a human, while saying that he has forgiven all that offended him.
The former Deputy Speaker of House of Representatives made this declaration at Amafor, Imerienwe, in Ngor Okpala LGA, while inaugurating "TEAM IHEDIOHA", Ngor Okpala chapter on Saturday.
Ihedioha said that nobody is above mistake, pointing out that he has learnt from his past mistakes which is part of education in life.
Addressing the mammoth crowd that trooped out to welcome him in Ngor Okpala, the former National Lawmaker who acted as the Speaker of House of Representatives at the end of 2015 election year said that he is a simple man with no airs around him, but it his political opponents that term him arrogant, adding that those close to him know that he is not arrogant.
Emeka Ihedioha whose maternal home is Ngor Okpala said that the Area is part of him, since his mother is from the LGA, stressing that till date, no single individual has done what he has done for Ngor Okpala both in provision of infrastructure and employment. Ihedioha advised the people not to take whatever they hear about any person until they see with their eyes, pointing out that those who hate him always carry false stories about him.
He asked the people of Ngor Okpala to always support him and PDP for him to realize his Governorship ambition in 2019 and pay back Ngor Okpala people for their love, consistency and support given to him and PDP.
Earlier, the Chief host, Chief Emma Nwogu had welcomed the August Visitors, and assured Ihedioha that the exit of some people from Ngor Okpala PDP is a good omen, as only committed members are now in PDP Ngor Okpala.
The member Representing Aboh Mbaise/ Ngor Okpala Federal constituency, Hon Bede Eke asked the people of Ngor Okpala to always remain steadfast with PDP, saying that only PDP can give dividends of democracy to the area, adding that since the inception of APC administration Ngor Okpala and Aboh Mbaise have suffered neglect but except for the Federal presence he (Eke) attracted to the Federal Constituency.
The Secretary-General of "TEAM IHEDIOHA" in Owerri zone, Chief Innocent Ekenma (Obama) later inaugurated the ten man "TEAM IHEDIOHA" in Ngor Okpala LGA whose assignment is to work for Ihedioha's Governorship success starting from the primaries to the main election.
Chief Henry Ekpe spoke onbehalf of the team, and promised that the Team will work hard to deliver Emeka Ihedioha come 2019.
Among those present were, Hon Emeka Ihedioha, Hon Bede Eke, Hon Oliver Enwerenem, Hon Emma Nwogu, Chief Ben Mere, Dr Philip Ukaegbu, Chief Mcdonald Amadi, Chief Charles Abara, Elder Tochukwu Okereke, Hon Kizito Onuoha, Chief John Eke, Nze Charles Nkwocha, Chief Innocent Ekenma, Chief Richmond Amadi, Chief Morrison Njoku, Prince Obed Nwogu, Hon Uche Bana, Mr Casmir Nneji, Chief Theo Ekwonye, Chief DI Okere, Henry Okere, Chief Oliver Okere (ND), Aham Uwgwudi, Nze Hycinth Nkwocha, Nze Akpaka Ebis Eke, Mrs Scholastica Uwakwe, Dr Austine Uganwa, Chief Ethelbert Eke (BARON), All Ward Chairmen, Women Leaders, Youth Leaders and others too numerous to mention.