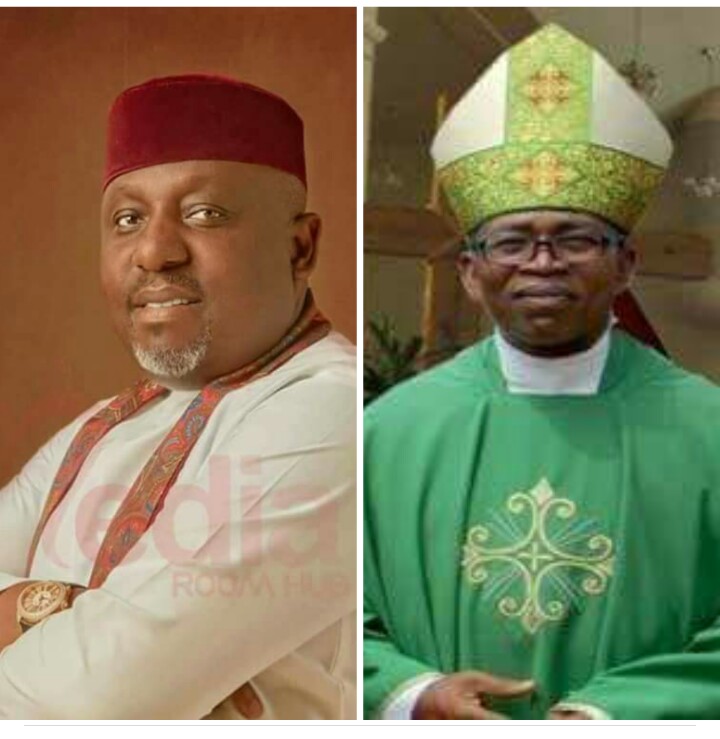 By Edmund Onyeananam
Feelers that the firm opposition of Archbishop Anthony Obinna against the purported ambition of Chief Uche Nwosu, son –inlaw to Governor Rochas Okorocha will be relaxed may be a ruse after all as the Archbishop of Owerri Archdiocese has increased the tempo of the rejection sermon.
In another public show, Obinna while stating that there was no time he endorsed Uche Nwosu for governor went further to state that Imo people have been living in fear since Okorocha came into power, adding that the voice constantly heard in all quarters has been that of Okorocha and that of his Rescue Mission government.
Addressing the press during his Easter message to Catholic faithful, Obinna expressed satisfaction that the speech he delivered as St Michael's Ngwoma, Obube in Owerri North Local Government Area, have created opportunity for Imolites to vent their anger, which according to him spurred some quarters to reject the endorsement of Uche Nwosu for the 2019 gubernatorial election.
"Equity demands that all arrangements should help Imolites to arrive at a point where there will be no controversy. Everyone should get their permanent voters card". In response to reports making the rounds that he endorsed Nwosu, Archbishop replied "take note, I never endorsed Uche Nwosu when he visited, I abhor incestuous democracy. I have no intention of endorsing anyone. Many priests have voiced out on social issues. In 1994 I and other priests visited Abacha, the former Head of State, to protest against Military rule. The Church has been there, we have organized open debate for politicians and promoted good Governance", Archbishop Obinna said.
Speaking further, he stated, "I did not endorse Uche Nwosu's candidature. It is against equity. He came here and I advised him to look at the temptation of the governorship before him.
"His Governorship ambition is not his original idea. It is Okorocha's idea to have his son in law as governor and his daughter as First Lady. It is incestuous democracy. The report that I endorsed him is irresponsible"
"Seriously speaking, I have no intention of endorsing his governorship ambition. This is my principled stance. Does it mean there is no other person in Owerri, Orlu and Okigwe zones that can be Governor?"
Reacting to a question on why he chose a funeral mass to announce his opposition to the Rescue Mission Government, the Cleric recalled how Jesus Christ spoke at the Synagogue.
"Where else do they want to me to speak except in the Church? Is it at the Heroes Square, Government House or where?" he said
He said his present stance on the matter is borne out of the principled stance of the Church, recalling how he opposed plans by a past military government in Imo State to remove the then College of Agriculture at Umuagwo and Alvan Ikoku College of Education.
"We have been playing such roles in the past. We had embarked on Voter enlightenment which educated the people on voter education and fighting for justice.  In 2006, we had Upright Voting. We organized debates to ascertain the quality of leaders who wanted to govern the State. The church has never shied away from its responsibility. My message is for all humanity"
Briefing Newsmen on Wednesday at the Maria Assumpta Cathedral, Port-Harcourt road (Assumpta Avenue), Owerri, Archbishop Obinna said Easter celebration takes the crucifixion of Jesus to a dynamic level, adding that the resurrection of our Lord Jesus Christ gave man the opportunity to be free from captivity.
Speaking on the theme Restoring Confidence and courage to Imo Citizens Archbishop Obinna said, "Due to our human nature, we are always living in fear, every uncomfortable sound causes us to panic. In the Bible the Apostles cried out in fear, in the sea, see Mathew 14:27, the real fear came when Jesus was arrested. The Apostles deserted him, yet in the fate of false accusations Jesus stood his ground. After his resurrection, he made appearances to Mary Magdalene and his disciples with a force beyond consideration".
The outspoken cleric said the prophet's role of speaking the truth is not one lightly taken by humans, saying "in a society yearning for justice, such truth comes with threats. Think of Moses who led the children of Israel out of Egypt, Ghandi of India who fought against Hindi caste system and Martin Luther king or America who advocated for black men".
Apparently disturbed by the verbal attacks from the cleric, the governor has given it back to the Archbishop.
Okorocha while reacting says "We have read the latest accusation by Archbishop Anthony Obinna of the Catholic Diocese of Owerri against Governor Rochas Okorocha, and we shall continue to show our respect for the Archbishop, but one fact remains sacrosanct, he cannot install a governor of APGA extraction in 2019 because he could not also do that in 2015 when he first tried it".
According to his media aide of the governor, Sam Onwuemeodo, "The Archbishop had hidden under his Easter Message Press Conference to continue his onslaught on the governor, Owelle Okorocha and his Rescue Mission Government, making it the tenth time in less than two months the Church leader had descended on the governor and the administration.
"Of all the allegations the Archbishop made against the governor, the most unfortunate, was the one he said that, "Governor Okorocha is the only voice which everyone has to listen to and obey, otherwise, arrests and imprisonments would follow". This is the height of blackmail.
"And we humbly wish to challenge the Archbishop to mention just one person, the governor or government has arrested for any reason including criticizing him or anybody the governor has imprisoned since he came on board as governor in 2011.
Where the Archbishop fails to do this, we ask with every sense of politeness that he corrects that false claim and if he deems it worth-doing, apologize to the governor.
"It has become obvious that the Archbishop has intensified his disdain or hatred for APC, President Muhammadu Buhari and Governor Okorocha this time because of the 2019 election. And the Archbishop should know that most people have become fed up with his repeated unprovoked and unwarranted attacks on the governor and his government using every platform and every event available to him. We do not think that the Archbishop should be doing that for the benefit of a particular Political Party or certain Politicians".