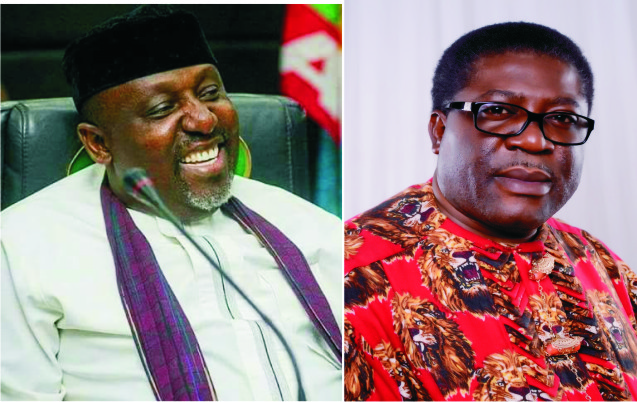 By: Tochi Onyeubi
The battle for the soul of Imo State APC has resumed. There are indications that, that the state chapter of the ruling party may hold a parallel primaries judging from the latest development in the state.
It would be recalled that the quest to control the party structure witnessed a halt few months ago when the Adams Oshiomole led National working Committee, NWC of the party gave Okorocha's faction an upper hand by recognizing the Daniel Nwafor led Exco against that of the coalition headed by Hilary Eke.
Following the beginning of sales of forms to run for elective position, the schisms in Imo APC has resurrected with a likelihood of parallel primaries for the selection of party candidate.
The meeting of the coalition held on Sunday in Owerri signalled that, the state chapter of APC will witness two primaries under the two camps; Rescue Mission and Coalition.
A Federal high court in Owerri had nullified the congress, that produced the Eke led Exco of the coalition, forcing the group to move to Appeal, even as an Abuja high court, also ordered the Nwafor faction not to organize primaries for any election.
Rising from the meeting on Sunday, members of the APC coalition led by Sen. Hope Uzodinma including Deputy Governor, Prince Eze Madumere, Senator Benjamin Uwajumogu, Hon. Nana Opiah and other party heavy weights declared their support for the adoption of direct  primaries to select the party flag bearer for the 2019 election.
The embattled Deputy Governor, Prince Eze Madumere who was also in attendance pledged members support for president Buhari's re election, announced that the state chapter of the party must abide by the direct primaries and not imposition.
He further stated that, efforts by the state Governor Rochas Okorocha to single handedly conduct primaries in favour of loyalists will not be tolerated by APC members, " Governor cannot conduct mock primaries to determine candidates of the party for various elective positions for 2019 amongst his loyalists in total disregard to directives of the National leadership of the party, it will not be accepted," he said.
Speaking also, Senator Hope Uzodinma who insisted that, members of the coalition are the real owners of the party, said failure of the party to carry everyone along, they would seek alternatives.
In their respective speeches Senator Benjamin Uwajumogu and Factional chairman, Dr. Hillary Eke all supported direct primaries stressing that the party doesn't belong to anybody.
This is sequel to the meeting held last week by the Rescue Missionaries and their decision on indirect primaries against the national leadership of the party. While this still rages on, the court is left to decide the fate of both parties to produce an authentic candidate for 2019.