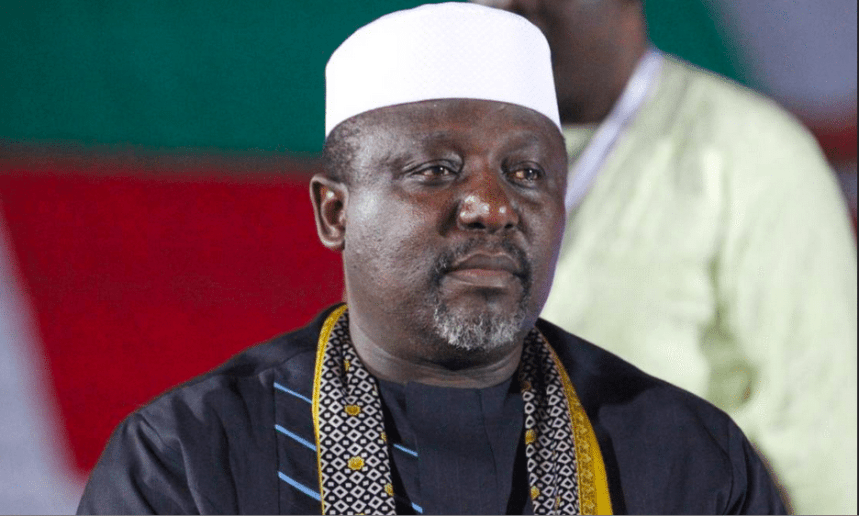 By Peter Uzoma
The last minute desire of Sir George Eche to run for the Governorship ticket of APC, instead of the House of Representatives he had earlier bargained for has put his former principal and governor of the state, Owelle Rochas Okorocha in critical situation.
Eche who recently resigned his position and was among those Okorocha relieved of his appointment as Secretary to the Imo State Government a week ago rattled the Rescue Mission faction of APC when he decided to go for the number one position in the state against the wish of the governor.
It would be recalled that while Okorocha has settled for Uche Nwosu, his Chief of Staff and son in-law for the governorship, Eche was for Aboh Mbaise/Ngor Okpala Federal Constituency.
But at a meeting conducted by Okorocha to select his "team" who have collected form for primaries, Eche stunned all with his new disposition to succeed Okorocha.
The ambition of the career civil servant turned politician after he retired because of his appointment as secretary to the state government in 2015, commenced when collection and submission of forms started.
Trumpeta learnt that apart from instituting fresh rift in the larger Okorocha family, the governor is troubled by the ambition of one of his erstwhile loyal aides.
A confirmation of Okorocha's worries emanates from a press release issued by the Governor's office, in Owerri and signed by the spokesman, Sam Onwuemedo. While denying knowledge of Eche's governorship ambition, Okorocha confirmed that he has been besieged by inquires over the development.
According to the statement made available to Trumpeta , "the secretary to the state government, Mr George Eche was quoted to have claimed that the governor, Owelle Rochas Okorocha has asked him to contest the 2019 governorship election. And for this claim, the governor has been inundated with calls over the authenticity or otherwise of this claim by Mr Eche.
Judging from the lamentations of the governor's media aide reflected in the statement, it appears that Eche's ambition has thrown spanners on the wheels of Okorocha's desire to successfully produce his successor.
Inside sources in Government House, Owerri, disclosed that followers of the governor are not comfortable with the split in the Rescue Mission rank as it is enough signal a disintegration of the Okorocha's political empire.
Trumpeta further learnt that Okorocha is disturbed that his trusted allies are gradually pulling out from the Rescue Mission camp irrespective of his plans to keep them intact.