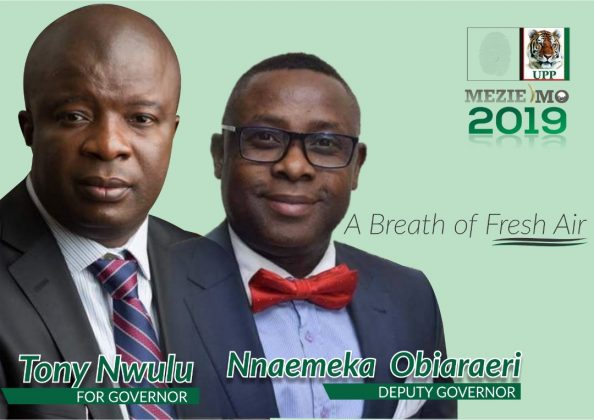 By: Amaechi Kingsley
The United Progressive Party (UPP) governorship candidate, Hon Tony Nwulu has chose an Okigwe born politician, a financial expert and a major player in Nigeria's oil and gas sector, Mr. Nnaemeka Obiareri to be his running mate ahead 2019 gubernatorial election.
Speaking to newsmen on the choice of his running mate, at the State Headquarters of the UPP,  Owerri last Friday, Hon Tony Nwulu said Mr. Nnaemeka Obiareri was chosen based on his track records and shares the same vision to transform the State.
He added that intellectual power house around him will enable him fashion a new direction that would transform Imo State. According to him, "The choice of my running mate was not informed or influenced by any godfather. We need an economic whizkid, not a contractor chaser. Nnamdi Obiareri emerged as our running mate after a collective search," he submitted.
In his remarks, the UPP Deputy Governorship candidate, Obiareri admitted that none of those contesting for the governorship of Imo State is more qualified than Tony Nwulu, "We will be realistic with our vision and desire to give Imo State the best. We will show remarkable difference in governance. We will redeem Imo State. We will do a lot to change Imo State for good" Obiareri said
Speaking shortly after the unveiling of the UPP deputy governorship candidate, a member of Board of Trustees of the UPP, Ejike Uche,said the party has offered Imo people the best who can salvage the State from further ruin.