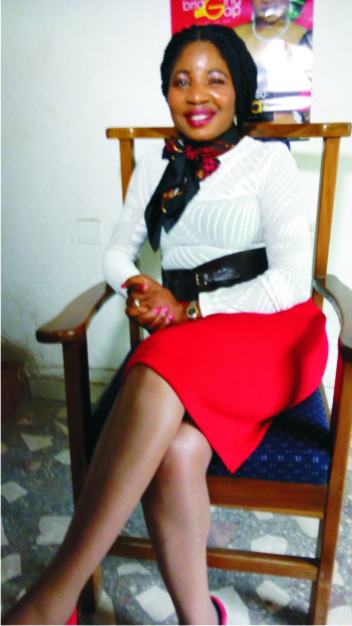 I've come to realize that nothing actually compares to one who is guided by eternal principles and values in life. Truth is that the life of such one is usually a blessing to his brothers and sisters and humanity in general. One of such persons is Dr. Mrs Chidi Omeogu-Ogbuta, the Governorship candidate of AAC in the just concluded election in Imo State.
There are several encomiums of goodwill to pour about the extraordinariness of her personality, but I'll let my fellow Imolites speak for me:
According to Adaeze Nneoma Obirieze, "I celebrate Dr. Mrs. Chidi Omeogu-Ogbuta. Watching and listening to her has inspired me a lot. I thank her for the opportunity of letting me hear her. Her name has been written down in history and I know that there are more great things to come. This isn't the end but just the beginning."
For Anselm Okorie, "Dr. Chidiebere really worked hard and has actually inspired many people. We are proud of her for demonstrating high level of courage, intelligence, eloquence and pragmatism."
In the words of Ezeoke Jane, "Chidi's courage, strength, doggedness amazed me. She treaded where angels dared not. She's a hero any day any time." Sunnybestman Egwuatu offering the same sentiments said, "this Ada MBAISE is a conqueror. She's the eyes of the women in Imo state and has opened the closed doors shut by the men in politics. Her name is written in Gold as the Pathfinder of this Challenge. I want her to keep the flag flying. I am 100% supportive of her cause to bring our people out from captivities and bondages."
Ugoeze Uduko Onuoha wrote lovingly that, "Chidi's determination is next to none, l am proud of her, may she keep soaring. Congrats to her for making the female gender proud. Bravooo!!" Francis Ibeh's view matches seamlessly with that of Ugoeze when he wrote: "Chidi made everyone proud as the only female candidate out of thousands of men. At the same time she showed other contesters by congratulating our brother Ihedioha, the winning candidate, that you can played politics without any bitterness."
According to Franca Chioma Chizoma Anojenwere, "Dr. Chidi is an able Doctor. I truly admire her courage. Believe it or not it's written indelibly in history that she's the first female to contest for this post to this extent and fought like a tigress to the end. She made an impact which will never be forgotten in a hurry." Echoing the same line Uluocha Anyaogu wrote, "she has made history and Imolites will never forget her in a hurry. This is the beginning of her greatness."
John Chike Utomi congratulating her on running a message filled, hope thrusted, rancor free and enlightening campaign said, "Congratulations to Dr Mrs Chidi Omeogu-Ogbuta… she's a winner, for history will have it say she made her mark. We are so proud of her." In an obvious jibe to the Statue erecting man of Orlu, he jokingly added, "If I have my way I will ask Owelle to erect a statue in her honour before he leaves office. God bless her and once again, I congratulate her."
But the one that captured my attention more seemed to be that of Cajetan Onyeama who wrote in praise of Dr. Chidi saying, "Through her qualifications, capacity and dint of hard work she ran a unique campaign which demonstrated that one can seek political office without breaking the bank. Though many people got electrified by her a little bit late, notwithstanding, she still recorded many supporters and votes. She rekindled the hope of Imo people that change is possible and available. She also represented the importunate quest for gender parity. She broadened the choice base and the options for our people. I Thank her for all the effort and for all she did."
Victor Ukaegbu offering the same felicitations as Cajetan said, "Congratulations to Dr Chidi on her run! Not easy to have had the courage to run as she did. She has the right approach and the right sensibilities to be a great leader. I hope people will take notice and accord her a position to serve. We need people like her with public service sensibilities!"
Alex Nwahiri surmised her campaign in the following elegant words, "Chidi Omeogu-Ogbuta ran a gallant and purposeful campaign. Though she may not have won the elections going by the number of votes but she won the hearts and minds of Imolites. She has left an enduring legacy in the political landscape of Imo State and she will forever be remembered for your doggedness, resilience and commitment to change the people's destiny for the better. Posterity still has a date with her because of her wonderful qualities. May she not turn her back on Imo citizens. God's time is the best. Congratulations Dr Chidi Omeogu-Ogbuta. May the good Lord continue to strengthen her for her future role and assignment for Imo people. Shalom."
Need I say more?
Thank you for saying yes when Imolites urged you to run. Thank you for running the best people oriented and policy centered campaign in 2019 election in Imo State. I pray God grant Imolites the grace to live up to the message of your campaign of lovely development as you dubbed it.  I pray God to grant you continuous victory in life till the end of days.
Congratulations the only female and best candidate in Imo 2019 Guber election. Soar higher!