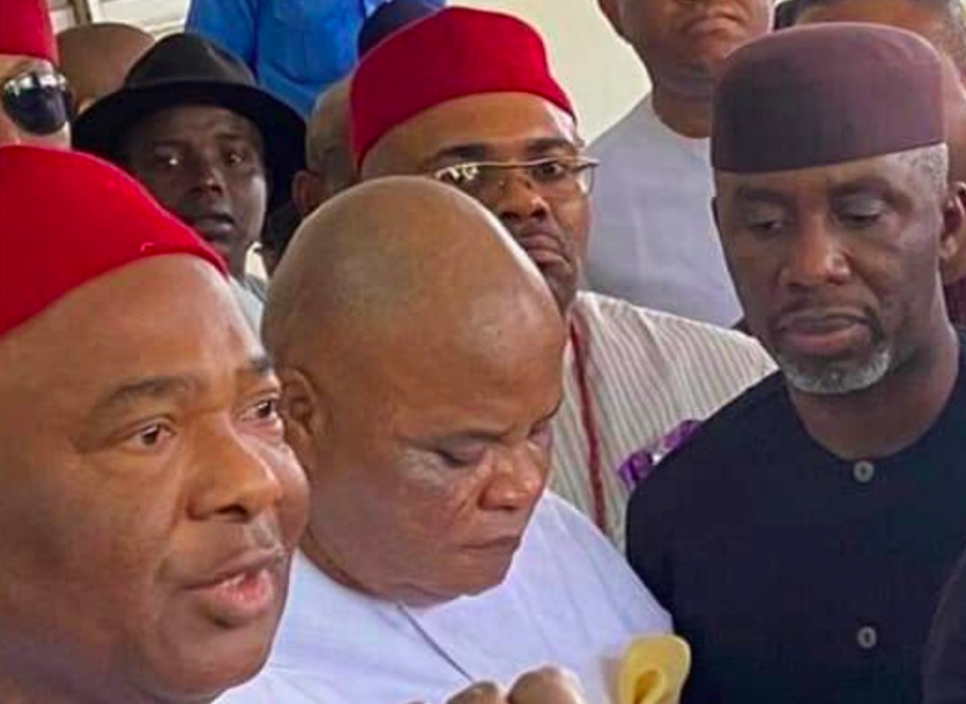 The agreement which the current Governor of Imo State, Senator Hope Uzodinma reached  with others who helped him snatch power from Governor Emeka Ihedioha at the Supreme Court is said to have ran into a hitch, as Uzodinma is alleged not to be disposed to the promise again.
According to impeccable sources within the current Imo political operators, Uzodinma was said to have extracted the cooperation of some Imo political Heavy weights to join him retrieve the Imo Government House from Ihedioha with mouth-watering offers.
But Trumpeta learnt that all is no more working well as what was promised are no more coming to fruition.
Trumpeta learnt that there was an agreement among Senator Hope Uzodinma, Senator Ifeanyi Araraume and Senator Rochas Okorocha on how to share the booty whenever Ihedioha was sacked.
Following nocturnal meetings, these men with other Imo politicians like three former Speakers of Imo House of Assembly, Rt Hons Kelechi Nwagwu, Nana Opiah and Godfrey Dikeocha, agreed how the top political positions would be shared among the splinter Groups that came together to battle Ihedioha and PDP.
Trumpeta learnt that the position of Secretary to the Government was zoned to Okigwe and for Araraume to make the pick.
Office of Chief of Staff was ceded to Orlu and for Okorocha to make the choice, while that of Attorney-General was given to Owerri for Kelechi Nwagwu to make the choice.
However, it is said that immediately after the January 14, 2020 Supreme Court judgment, with Uzodinma sworn-in the next day at about 7pm, the first action he took was to make the appointment for the three major positions.
But unfortunately, he ignored the agreement and quickly filled the positions with his own persons, namely Cosmos Iwu, (SSG) (his Campaign Director) Chief Nnamdi Anyaehie (Chief of Staff) his Bossom Ally and confident, and Barr Cyprian Akaolisa, his Legal expert and Election guru, who handled the proverbial 388 Polling Units that has shaken Nigeria (Attorney-General and Commissioner For Justice)
Since after quickly announcing these positions, Uzodinma has not made any other appointment and is said to have dared Araraume and Okorocha to do there worse.
While Senator Araraume has quietly went away to plan the way forward, Okorocha is said to have been trailing Uzodinma everywhere, even making derogatory comments about Ihedioha all in a bid to attract Uzodinma's attention and patronage.
Following this rude development, things are no more working smoothly for the three Emergency political Lovers.
Sources said that the situation is not going well with Okorocha who had waited to replant his son inlaw, Uche Nwosu in the position of Chief of Staff, but Uzodinma seems to know better and had other plans.
Trumpeta learnt that what is holding Uzodinma from announcing further appointments is that Araraume and Okorocha have all rejected the overtures of producing Commissioners as against the earlier agreement of producing SSG and Chief of Staff respectively.
"As it stands now, Uzodinma will go ahead with the swearing –in of those his men (which he did yesterday) and move on if Okorocha and Araraume refuse to nominate candidates for commissionership positions" a close source to Uzodinma told Trumpeta.
Trumpeta was told that for reneging on his promise, Araraume and Okorocha are no more comfortable with Uzodinma which is creating crack already in the Rainbow Coalition in Imo.
"Were you expecting Uzodinma to hand over such sensitive and strategy positions to his rivals in the name of agreement when the man is battling to consolidate his regime yet? No politician does that. If Araraume and Okorocha is serious they should name other positions. For Eight years in office did Okorocha give any "stranger" the office of Chief of Staff?" Trumpeta was asked.