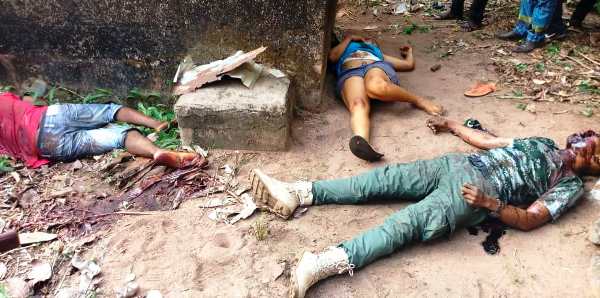 By: Tochi Onyeubi
More details has emerged on the incident that happened on Sunday in Oru West, Imo state, where a man shot a couple dead, including himself.
According to the police report by the Police Public Relations Officer, PPRO Orlando Ikeokwu, the killer, an Inspector attached to 29 PMF Awka, Insp. Kenneth Enamike had claimed that, one Oluchi Aputanze 'F' married to the late Cajethan Aputanze "M", obtained the sum of One Hundred and Fifty Thousand (#150,000.00) under the guise that she was single and would accept to marry him.
Irked by the discovery that the said Oluchi was married, coupled with the faceoff he had with Oluchi's husband when he visited her and threats by the said husband to kill him through diabolic means when he demanded for his money, forced him to end it both by murdering the couple and himself. This was contained in a note found near his lifeless body.
The report reads, " On 22/03/2020, at about 14:45pm, one Aloy Eze of Ozoara, Mgbidi, Oru west LGA, Imo State, reported to Oru west Divisional Police Headquarters that he returned home only to meet the Corpse of three people behind his house."
"Upon the receipt of the report operatives of the Division moved to the scene and met corpses of the following people ; Oluchi Aputanze, 'F", Cajethan Aputanze 'M", Inspr Kenneth Enamika, attached to 29 PMF Awka, Anambra state."
"One AK 47 was also recovered from the scene, as well as a note declaring intent to kill Oluchi and Cajethan Aputanze and also commit suicide, and further  claimed that the late Oluchi Aputanze obtained the sum of one hundred and fifty thousand Naira (#150,000) from him claiming she was single and accepted to marry him, only for him to discover that she was actually married to the late Cajethan Aputanze, he also claimed that in an effort to recover his money Cajethan Aputanze (Oluchi's husband) threatened to kill him through diabolical means, as a result he resorted to self help, murder/suicide."
The police reports that, the corpses have been deposited in the morgue while investigation has commences.