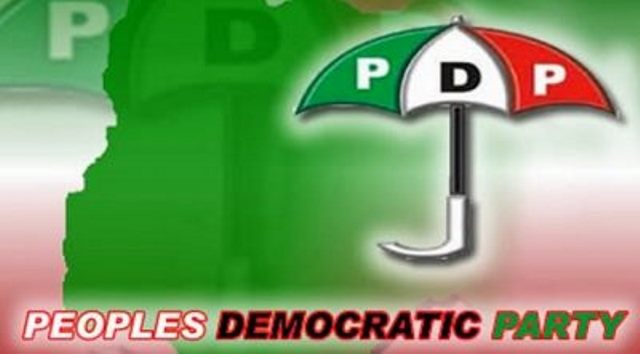 The Peoples Democratic Party, PDP, Imo State chapter, has described as a relief, the purported decamping of some of its officials whose tenures had expired, to the  ruling All Progressives Congress, APC in Imo State.
Speaking to Journalists in the party's State Secretariat, Okigwe Road, Owerri, the State Chairman, Chief Martin Ejiogu disclosed that the former State chairman, Chief Charles Ezekwem was a spent force, who decided to run away with the party's property, including cash, adding that joining the opposition APC will not save him as he will still come and give account of PDP property in his custody, which he ran away with.
Ejiogu said that "Ezekwem is a man with insatiable appetite and therefore ready to indulge in any act" adding that as chairman,  Ezekwem played fast one on PDP and when the party discovered and wanted to scrutinize him "he went off and found solace in APC".
Among those mentioned by Imo PDP who were a disappointment to the party include the party's former Legal Adviser, whom the PDP State Chairman described as a mole who connived to make the party lose most of its cases in Court.
The former Publicity Secretary of the party, Mr Damian Opara, according to Imo PDP was the worst Publicity Secretary the party ever had in its over twenty years existence, as he said that Opara lacked the capacity and professional know-how to project the image of Imo PDP and could not handle the job he was assigned.
The party said that Opara's tenure has expired and the party was not interested in returning him to office.
The Youth Leader, Hon Williams Ohanonu (Aburi), the party said, could not be able to mobilize Imo Youths during his tenure, and sensing he was bound not to return, decided to move to APC.
The former Deputy Publicity Secretary of the party, Harry Ihebinike was said to have performed abysmally in office to the extent that who could not write one Press Release for the four years he lasted in office.
Maximum Okedu, the former Assistant Financial Secretary, PDP said, wanted to be Orlu Zonal Chairman of PDP, but when the party considered his poor outing as Assistant Financial Secretary and denied him the position, he moved out to APC.
And the National Ex-Officio, Bar Leo Degreat Awazia, is said to be a hand- picked loyalist of Senator Hope Uzodinma who has simply returned to his home, and therefore was a relief that he left on his own, without continuing to pose a problem to the party.
In conclusion, the Chairman said that "That Imo PDP which was voted en masse by Imolites during the 2019 elections and consequently won the governorship seat of the State is on daily basis fortified and consolidated and cannot be distracted by a rump is scrappy self-seeking defectors".