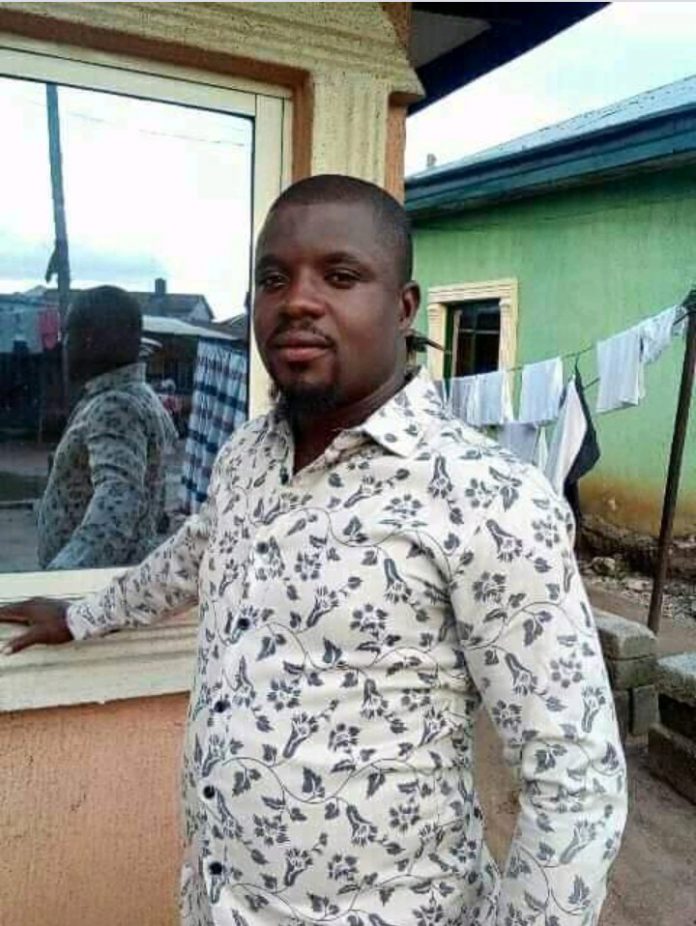 The people of Owerri West LGA, Imo State have been thrown into mourning, following the shocking murder of Mr Chiemezi Onyeledo of Umuejiechi, Nekede community, which has raised tension in the entire Area.
Trumpeta learnt that Chiemezi, was a 36year old man, who worked as a Sand Dredger, at Otimiri River, Nekede.
However, the remains of Chiemezi is now lying cold in Imo General Hospital Umuguma Mortuary, after his body was  found floating at Otimiri River.
According to the father, Gabriel Onyeledo, the matter has been reported to Police, and four suspects are now cooling their heels in the Cell at Police Headquarter, Owerri.
Meanwhile, Gabriel Onyeledo is pointing accusing fingers at Uchenna and Amarachi Ekeocha, all natives of Nekede and friends of his late son.
The father of the deceased in an interview told Trumpeta that the entire scenario started on September 11, 2020 at about 8pm when Uchenna Ekeocha stormed his House with some Group of people and started ransacking his house.
When he asked why the invasion, Uchenna replied that they were looking for "Power-Take-Off". Power-Take-Off is part of a machine in a sand Dredger that propels the Engine. Uchenna was said to have alleged that Chiemezi his son stole the machine from his Dredger at Otimiri and when asked told them he hid it in his father's house.
According to Pa Onyeledo, after ransacking his House without finding anything, the Gang left.
Onyeledo said that that night, his son, Chiemezi did not return home and he had to visit Uchenna Ekeocha's home the next day, where he asked his parents to ask their son to show him where Chiemezi was.
According to Pa Onyeledo, he was told that his son is a thief and should go and look for him.
When Chiemezi did not return home the next day, according to Pa Onyeledo, the entire Onyeledo family became worried and started looking for their Child and sibling.
It was in the search of Chiemezi that they got information that he was tortured by some Group of people inside a "Bacha" at No1 Bus Stop Nekede in order to extract information of the whereabout of the "Power-Take-Off" from him, Onyeledo said.
However Onyeledo disclosed that later in the day, a Lady who claimed she saw Chiemezi undergoing torture warned the family that they should look for him because the condition she saw him was bad as he may not survive.
"Therefore, having waited from Friday to Sunday without seeing my son, I went to report to my Lawyer who went to put an entry to the police. But while we were doing this, News Filtered in that a Body was found floating at Otimiri River Nekede.
When we got there, behold, it was my son" Onyeledo explained.
He said that it took the Police of Owerri West LGA and members of Medical Team to recover the now bloated body of Chiemezi from the River to the Mortuary, which he said took place at about 11 pm on September 14, 2020.
In a petition by Onyeledo's Lawyer, Mbajunwa Karen Esq to the Police, Onyeledo cried for justice adding that the death of his son cannot go without punishing those who perpetrated the act.
However, before Onyeledo could reach the Police, Uchenna and Amarachi Ekeocha were said to have also asked the police to invite Mr Gabriel Onyeledo and his son, Mr Uzoma Onyeledo for investigation into the death of Chiemezi, through Mr Sam Achowuo, the Village Chairman of Umuejechi Central Assembly, and was signed by DSP Musa Baba, a Deputy Commissioner of Police, dated September 16, 2020.
"This Department is investigating a case of suspected murder of one Chiemezi Onyeledo Ekulu "M" on 11th day of September, 2020 at Nekede River in Owerri West Local Government Area of Imo State" the invitation read in part.
Uchenna Ekeocha, Amarachi Ekeocha and two other persons are said to be in police custody already over the alleged Murder case.
But Pa Onyeledo who described his late son as a hard working young man said that Uchenna Ekeocha has been a friend to Chiemezi for over twenty years, and both have been working together as Sand Dredgers at Otimiri River for ages, pointing out that all he wants is thorough investigation of the matter, and punishment meted to whoever is involved in the gruesome murder of his son, for his soul to rest peacefully.