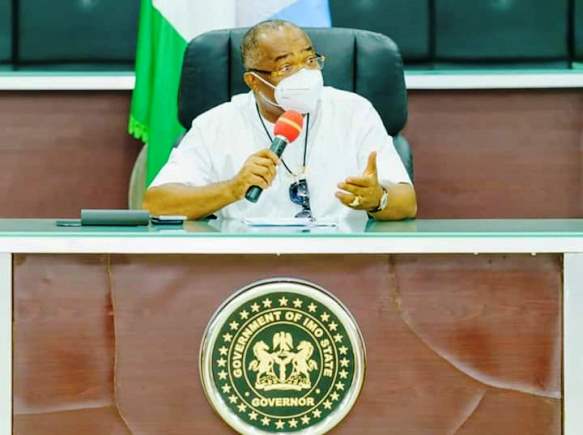 By Onyekachi Eze
Apparently being unmindful of the realities of the day, Governor Hope Uzodinma of Imo State is at the receiving of a backlash from people of the state to asking for fresh N7.5 billion loan from two banks.
Members of Imo State House of Assembly have approved a new loan for the State Governor from two Commercial Banks.
The loan was in a tune of N7.5bn, approved from Heritage Bank and Access Bank PLC.
In a plenary session of the House on Tuesday, presided by the Speaker, Chiji Collins, with thirteen other Lawmakers out of the twenty seven, the Speaker under 'Announcement' read out two different letters from the State Governor, Senator Hope Uzodinma, seeking for approval to enable the State borrow the sum of N5bn from Heritage Bank, and another N2.5bn from Access Bank.
In the letter read by Chiji Collins, the #5bn was for the purchase of jeeps for Permanent Secretaries, Aides, and Hyundai Buses for the Civil Servants bought from Innoson motors.
Also, the N2.5bn according to the said letter read on the floor of the House was for the Primary Health Care services.
Speaker Chiji expressed that earlier in their Executive Session, they agreed to give it an accelerated resolution, since the purpose of the loan was for the good of the Imo masses.
However, when put on voice note, the 'Ais' had it, thereby giving the Governor an approval to access the loans.
Moments after the approval by the House, a section of the masses started crying out adding that it is another wasteful venture meant to plunge the state into pit of debt.
Majority of those who lamented the decision accused Uzodinma of trying to be pedestrian in action by failing to go into other meaningful aspects of development than car loan.
Residents of the State wondered why the governor didn't think of critical aspects that concerns bad roads plaguing movements in the State capital for loans than official vehicles for his aides and appointees.
Meanwhile, this fresh borrowing has raised fears that the debt profile of the state may have also deepened the financial base of the state.