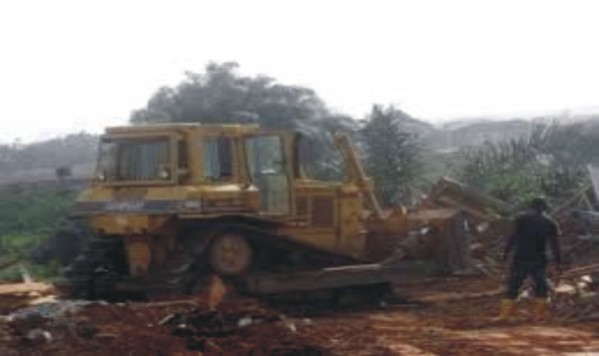 The lingering battle between the Imo State Government under the administration of Senator Hope Uzodinma and former governor Rochas Okorocha is about to consume a seasoned journalist and former Chief Press Secretary to a former Governor, Sam Onwuemeodo.
The latest tactics applied in the battle is the plot to demolish buildings belonging to some past appointees and aides of Okorocha.
Apart from going after property of Uzodinma and family members alleged to have been built on public land or prohibited places other notable aides are in trouble as their buildings have been marked for either demolition or other sanctions.
One of them who has cried out is the media aide to Okorocha, Onwuemeodo.
Onwuemeodo, a newspaper publisher is the spokesman of the former governor from their days in office till now.
According to Onwuemeodo in a statement made public in the social media, the state government is after his property and has marked it for Demolition.
He said " PRESS RELEASE
TOPIC: IMO STATE GOVERNOR, CHIEF HOPE UZODINMA HAS MARKED MY HOUSE FOR DEMOLITION.
– FROM ALL INDICATIONS, THE IMO GOVERNOR HAS LAUNCHED WAR AGAINST IMO PEOPLE, PERHAPS, FOR NOT VOTING FOR HIM IN 2019.
"I, Sam Onwuemeodo, wish to inform the general Public that the Governor of Imo State, Chief Hope Uzodinma and his Camphope government have marked the house where I have been living with my family, for demolition.
As I write, nobody has told me the reason for marking my house for demolition. Whether the house was illegally acquired, or whether the house distorted the Owerri Master Plan or whether I have become Sam Onwuemeodo nee Okorocha or whether I have become another son-in-law of Rochas Okorocha. I have not known or been told the reason for my house to be marked for demolition.
On Friday, March 19, 2021, someone called and told me to be very careful. That, the government has decided to demolish my house. That by Tuesday, March 23, 2021, my house would be marked for demolition. And to avoid making it look personal, they would also mark other houses around my own. I didn't take the information serious because I could not fathom any reason the government would want to demolish my house, except perhaps, my serving in the government of Okorocha as his Chief Press Secretary and now, as his Media Adviser.
Following this information, on Tuesday, March 23, 2021, I decided not to leave the house early. By 11.22am, two hummer buses with tinted glasses came and parked in front of my gate. I decided only to watch them. The two buses were filled with young men I wouldn't like to describe as thugs and about Six hefty men in Mobile Police Uniform, fully armed.
One of the young men began to write on the fence. And the one with video began to video the fence and gate and the Surroundings, raising some security issues which I would not like to talk about now. The one with Camera also took photographs. When they had finished, they moved. They wrote "MARKED FOR DEMOLITION BY IMSG/OCDA, 23/3/21".
Like I said, nobody has told me either in writing or orally why my house was marked for demolition. In 2010, I applied for land through the Ministry of Lands when His Excellency Chief Ikedi Ohakim was governor. One day, somebody called me to come to the Ministry to take my approval letter. I got there, the Secretary to the Commissioner then brought out a file and checked and said mine was not among. I left.
In 2011, when Owelle Okorocha became governor, I applied again and in 2013, a land was approved for me and I paid all the necessary fees and my receipts are intact. In other words, the land was not donated or "dashed" to me. I applied to the Ministry of Lands as a bonafide Citizen of the State. Got the allocation and paid the needed or demanded fees. And I have been living in the house with my family. Let the governor or his government tell the world why he wants to demolish my house. But if it is because of my working relationship with Okorocha, they have lost it entirely.
Honestly, the issue has gone beyond Okorocha. The governor appears to have launched a systematic war against Imo people. Demolishing existing round-abouts without replacements and motorists in the State staying between 4 and 5 hours on traffics, cannot be said to be war against Okorocha. It is against Imo people.
What is happening in Imo these days could better be described as "administrative terrorism". Either the governor is still angry with Imo people for not voting for him in the 2019 election or he is using intimidation to force people to support him. And none is advisable.
The governor has created a different Imo with his actions and inactions. A State that was known for peace and serene atmosphere is today soaked or engulfed by tension and pressure. The governor should please rediscover the State, since "by strength, shall no man prevail".