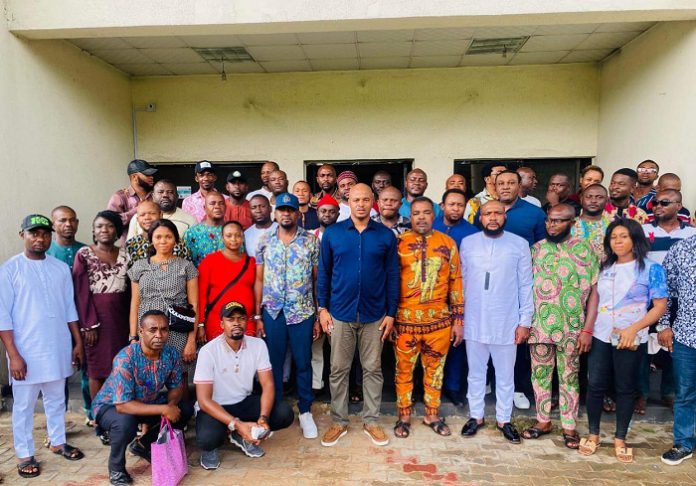 Governor of Imo State, Senator Hope Uzodimma has bagged an implicit vote of confidence from Youths of the State over his laudable achievements.
Following his human, capital and infrastructure development which cuts across the nook and cranny of the State since assumption of office, hence the confidence vote.
Over the weekend, precisely 29th July 2022, the Youths of Imo State unanimously passed a vote of confidence on the 3R Administration led by the Distinguished Governor of Imo State, Sen. Hope Uzodimma over his undiluted commitment to building the prosperity of the State by investing judiciously in the Youths across the 27 LGAs in Imo State.
Following his giant strides, the Shared Prosperity Youth Movement, a strong Youth structure galvanizing true representation of well meaning Youths in Imo State has begun a door-to-door Grassroots campaign preaching the gospel of good governance and shared prosperity the Sen. Hope Uzodimma's administration has given to Imolites, bringing hope to our hearts and prosperity to our land.
Delegates across the 27 LGAs in the State at the meeting held at the Imo Youth Centre appreciated His Excellency of a job well done and reiterated their commitment to ensuring that the good deeds of the Government of the day are carried out without any form of youth restiveness across borders.
The Special Adviser to the Imo State Governor on Youth Affairs receiving in audience the Youth structure assured them that Government stays dedicated and committed to building an ecosystem of wealth and prosperity for the State, with hundred percent inclusiveness of the Youths in such programmes and projects.
The meeting ended on a high note as the Youths of Imo State unanimously voted in support of the Government, leaving the hall with a last chant, "Onwa, Carry Go".