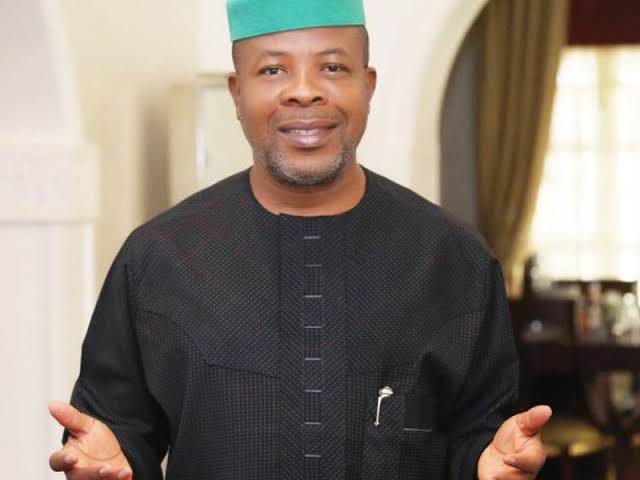 The immediate past Governor of Imo State, His Excellency, Rt Hon Emaka Ihedioha has made it clear that his political thrust is Development-oriented, based on quality infrastructural delivery and Human capacity training.
The former Governor said this while hosting Leaders of Peoples Democratic Party, PDP, Ngor Okpala Local Government chapter, Imo State in his home at Mbutu, Aboh Mbaise LGA.
He maintained that he remains proud of his achievements in office as Governor of Imo State, adding that even though his stay in office was short-lived, yet the legacies he left behind are there for all to see.
Ihedioha disclosed that it is unfortunate that some of the gigantic projects his administration was pursuing with zeal, such as the Secretariats and Stadia in the twenty seven Council headquarters of Imo LGAs have all been abandoned, not because they are not laudable structures, but just because they were initiated by his administration.
Ihedioha said that he joined politics to serve humanity, which is the reason he focuses on infrastructure and Human development, adding that with the two the society would be developed in general.
The former Governor who hosted Ngor Okpala PDP Leaders to charge them on 2023 general elections, cautioned against complacency, and indiscipline, pointing out that PDP is bigger than any individual, and asked Ngor Okpala PDP Leaders to work on one page.
He said that party is supreme and urged all those whose prefared Aspirants may not have emerged as candidates to forge ahead, and forget about the past, since tomorrow is another day, as those who lost today may be victors tomorrow.
He traced the cordial relationship that exists between the people of Ngor Okpala LGA, and Aboh Mbaise, asking that Ngor Okpala should continue with the brotherly relationship with Aboh Mbaise people, and should never let anything sore the cordial relationship between both people.
He charged the Leaders to go home and work for all PDP candidates, from the Presidential candidate of the party to the House of Assembly candidate, adding that PDP has teeming followers in Imo, as no party can challenge PDP a free and fair in election in the State come 2023 elections.
Chief Emma Nwogu, the Apex Leader of PDP in Ngor Okpala, responded on behalf of the party Leaders in the LGA, and assured Ihedioha of the ever commitment of Leaders to PDP.
Those present include Chief Emma Nwogu, Prof Jude Njoku, the LGA Chairman, Chief Morrison Njoku, former Deputy National Financial Secretary of PDP, Chief Henry Ekpe, Hon Cornelus Okere, Assistant State Auditor, Hon Kizito Onuoha, Secretary, Owerri Zone PDP, Chief Charles Abara, former IMC Chairman Ngor Okpala LGA, Hon Mrs Beatrice Nkwo, Woman Leader, Ngor Okpala PDP, Hon Romanus Onu, former Assistant State Auditor, Chief Chigozie Okereke, Hon Oliver Okere, Sir Theo Ekwuonye, Nonso Amaliri, Dr Perry Njoku, Dr Chigbu, Dr Uganwa, Hon Okey Azuonwu, Sir Amajirionwu, Chief John Eke, all LGA Officers, all Ward Chairmen and other Officers, and many too numerous to mention.