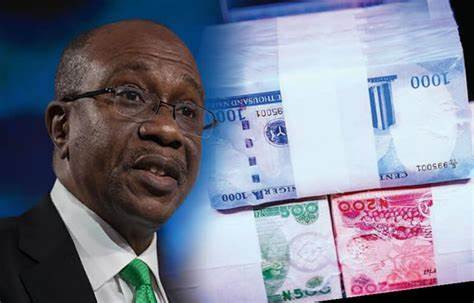 Nigerians have continued to lament cash scarcity and its attendant consequences on the Nigerian economy.
Checks by an online newspaper found that residents of Imo state, the Federal Capital Territory, Lagos, Edo, Nasarawa, Niger, Anambra, Delta and major cities continue to decry frustration over the non-availability of cash.
Banks' ATMs in Wuse 2, Wuse Market, Jabi, Ukato, Central Business District, and Maitama were crowded with customers some city centers to speak to some bank customers who appeared desperate to assess cash for their daily financial transactions.
Mr Benson Nweke who spoke to our correspondent said he had spent close to 5 hours at the ATM in Utako but he had been unable to withdraw.
"Honestly, the situation is frustrating; I have been here for more than 5 hours yet could not withdraw. I currently have no cash to return home".
Esther Patrick said she has been going from one ATM to another around Wuse 2 looking for cash but has yet to be successful.
She disclosed that she reported to a POS agent who charged her N1,000 for N4,000.
"I can't say much, my brother; you are in the country with me! I had been burning my fuel and going around ATMs looking for cash to withdraw; the worst thing was that I could not get even N5,000. Most ATMs around Maitama are not dispensing or are filled with massive crowds.
Outside Abuja, the story is not different. The situation is worse.
Angela Osasu, a resident of Uselu Benin in Benin City said on phone that most ATMs in her area need are not dispensing cash.
"Although there are massive crowds around some ATMs, many are not dispensing".
Wola Adedotun, a resident of Ajah in Lagos State in anguish lamented that government must look into the situation urgently before it degenerates into a full-blown crisis.
"I have been in an ATM around Ajah since 7 am, yet there is no hope that I would get the cash; the government needs to devise practicable solutions; if not, the country would crash".
In Awka, Anambra, Nasawara, Niger and other major cities, the cash scarcity has continued to impact negatively on the lives of ordinary Nigerians.
The ongoing currency crisis caused a shortage of new naira notes amid several challenges that Nigerians struggle with daily.
In addition to the cash scarcity, is also the current fuel crisis across Nigeria, many spend hours in queues for cash from ATMs and also queue for cash to buy the product as many stations have refused to accept cash transfers for payment.
Despite the Central Bank Governor announcing a 10-day extension to the deadline to phase out the old currency, the scarcity of the new naira notes persists.
While the Central Bank continues to claim it released more than enough new currencies to Deposit Money Banks, the reality on ground points to the opposite.