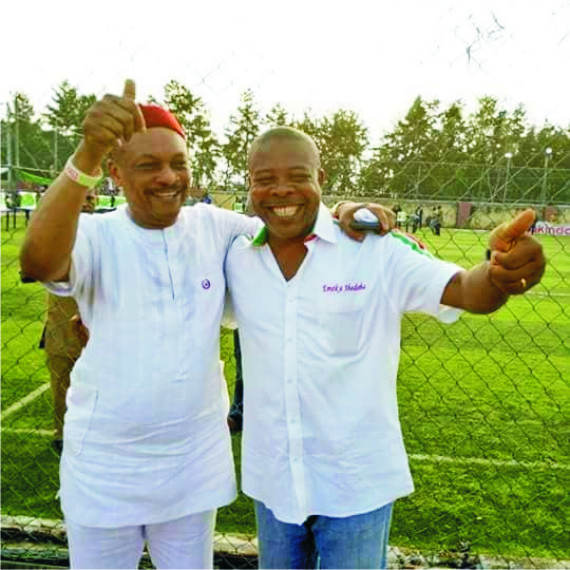 Beyond the persecution suffered by leaders and members of the People's Democratic Party, Imo State chapter, in the hands of security agencies, the centre cannot hold within the rank and file of the party again.
Imo PDP has been experiencing discordant tunes oozing from two major camps of the party in the past year leading to division.
Arrowheads in the war of attrition are the party's governorship candidate in the 2019 election Rt Hon Emeka Ihedioha and National Secretary, Senator Samuel Anyanwu, popularly known as Samdaddy.
Before now, their sympathizers have been engaging in brickbats about who should take charge of the party structure in the state.
The verbal warfare reached a crescendo as their agents embarked on attacks and counterattacks.
However, the manner PDP approached and handled the just concluded Presidential/National Assembly elections has raised fresh disagreements between the Ihedioha and Samdaddy's camps leading to the firing of verbal missiles.
Moments after the media aide to Samdaddy issued a release claiming that the national scribe blamed sabotage as the reason for the poor outing of the party in the last election, an ally of Ihedioha fired back in defense by accusing Anyanwu of many sins.
According to the former Chief of Protocol, Madu Chinemerem, It was wrong for Anyanwu to come up with saboteur allegations by accusing the national scribe of allegedly "playing the ostrich, petty, lacks the capacity for his office" arguing that "PDP disbursed election logistics transparently according to the agreed template"
Chinemerem, whose statement went viral on social media picked holes in the release of Samdaddy by stating that it wasn't enough for the party's national scribe to fail in his booth and ward during the election.
Apparently irked by what the ally of Ihedioha authored, Samdaddy's media team came back smoking with more jibes at the former Deputy Speaker of the House of Reps by arguing that "Ihedioha's greed, selfishness, vindictive politics, corruption have crippled PDP in Imo"
The write up from Samdaddy aides in the write up asked Ihedioha to tell Imo PDP candidates and members what happened to the #1.4b election intervention funds.
Trumpeta however observed that as the two camps are throwing words against each other over the election money mapped out for the prosecution of the Presidential election of Atiku, more uncouth words are on the way as the party gets set for the March 18 polls