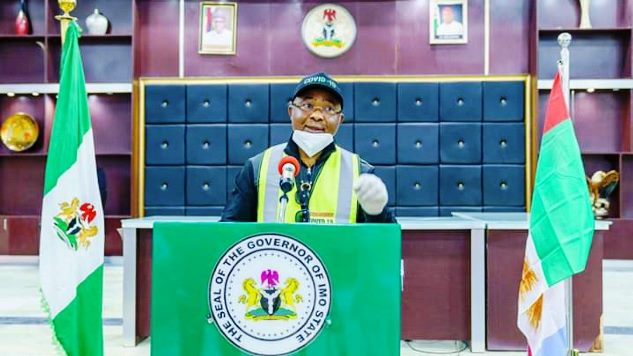 .As Top APC Politicians Jostle For Plum Position
As the November 11, 2023, Imo Governorship election draws nearer, politicians in All Progressive Congress, APC Imo State across the Twenty Seven (27) Local Government Areas have started positioning themselves to grab offices that will concern the campaigning business  for Imo State Governor, Senator Hope Uzodinma.
Uzodinma's reelection comes up next seven months, following the Supreme Court verdict on Imo Governorship election on January 14, 2020, which altered the original date of May 29, 2023.
With the upcoming election, impeccable sources told Trumpeta that top politicians in All Progressive Congress APC, are already positioning themselves to pilot the Uzodinma election in the Local Government Areas of the State.
Trumpeta learnt that Uzodinma has called for the dissolution of all APC Councils, including their Director-Generals across the LGAs.
This Newspaper was told that Uzodinma is not satisfied with the conduct of the Heads of the Presidential, NASS and House of Assembly Campaign Councils in Imo APC, and therefore is setting a fresh Council, with new Directors for his own Election coming in November.
Because of the latest development, Aides and known friends of the Governor have been besieged by Imo APC heavy weights, who are begging to head the Uzodinma Campaign Organization in their various LGAs.
This weekend, the Owerri Zone APC in a meeting in Owerri, dissolved all the Campaign Organizations in the Zone, adding that such Committees do not function again, as the Governor will soon form new ones for his own reelection plans.
Sources said that the home of Imo APC Chairman, Dr Macdonald Ebere has turned to Mecca as interested party men throng his premises asking to be penciled down for the job.
Meanwhile, it was learnt that Uzodinma will soon announce his Campaign Director General, whose job it will be to approve those that will head the LGA Councils.
Sources said that Uzodinma's Campaign-General may likely come from Owerri Zone, as indications are that Uzodinma may this time pick his Deputy from Okigwe Zone, as the position of Speaker of Imo House of Assembly may go to Owerri Zone.
Already, some LGAs have begun the struggle for the Campaign Council Chairman, which this Newspaper will bring from each of the LGAs, next Edition.
Meanwhile, Uzodinma had decided to keep at arms length all the Campaign Council D-Gs, who embezzled funds given to them in the last election, and failed to deliver APC in the Presidential and National elections.